Amidst the fun, students face prom preparation pressure
Traditional gender norms, steep costs, finding dates cause stress for some students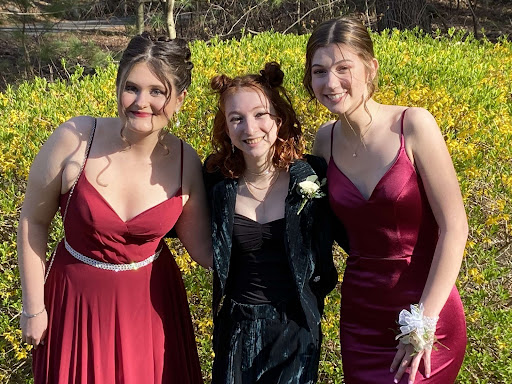 Although prom is a night of fun that is named one of the most monumental events for high school students, many experience stress as they face pressures regarding fashion, money and appearance.
According to a Harbinger survey of 135 students from May 3 to May 8 through Google Forms, only 7% of the students who went or are going to prom have felt no prom-related stress in the past few weeks, leaving 93% who have felt at least some stress leading up to prom. Of that 93%, 26% report that they feel a large amount of stress or anxiety.
For those who don't conform to traditional gender norms or identities, prom can be an entirely different experience compared to cisgender classmates. Junior Jay Guarino, who identifies as nonbinary and attended Junior Prom on April 30, enjoyed the dance but has difficulty understanding the logic behind prom culture.
"I feel like there's just a certain pressure to dress the way that people expect you to dress, and then even if you don't, it could be received poorly," Guarino said.
Guarino decided on a dark green velvet suit as their outfit for the night, coupled with delicate silver jewelry and a white boutonniere. They had their mind set on wearing a suit months before they actually went shopping for prom.
"Especially with queer students, I feel like it depends on if you're out or not, or how much you're willing to express," Guarino said. "For me, I was already out, so I could express myself however I wanted."
Sixty-two percent of the Harbinger survey respondents said they felt at least some pressure for their prom outfit to meet social or societal expectations.  
While most attendees chose to stay in line with classic prom gowns and suits, some saw the event as an opportunity to defy standards of regular promwear. However, their stylistic choices were not guaranteed a positive reception.
"With a couple of my friends, they made the bold decision to express themselves how they wanted when they weren't really out to everybody," Guarino said. "And they had to deal with how everyone else took that."
In the era of gender-bending fashion, pop-culture icons such as Kid Cudi and Harry Styles have led todays' teens to be more daring when it comes to design. Principal Sean Bevan, who chaperoned the junior prom, was pleased to see the amount of students whose outfits reflected their generations' changing outlook on style.
"We saw all kinds of different outfits that didn't play by super traditional gender norms… and I kind of wish that was something as a society we were able to achieve sooner than now," Bevan said.
Junior class adviser Kerriann Lessard also noticed some of the same changes at the junior prom.
"
We saw all kinds of different outfits that didn't play by super traditional gender norms… and I kind of wish that was something as a society we were able to achieve sooner than now,"
— Principal Sean Bevan
"Choice [on what to wear] is really great because you feel less pressured to wear a certain look or a certain type of outfit, while still being able to get dressed up," Lessard said.
For junior Katia Nicholson, finding a dress she felt comfortable in was one of the more stressful parts of prom preparation. She ended up choosing a strapless navy blue dress.
"I didn't have a lot of options to begin with," Nicholson said. "There aren't a lot of dress shops that sell plus size dresses."
Many students also find that the costs of going to prom are far too steep for a relatively short event. According to the Harbinger survey, 46% of respondents spent more than $400 on prom-related expenses, and 13% reported spending more than $700.
Junior Will Hayden found themself questioning the logic behind overspending at prom.
"People blow the bank on a dress they wear once, and then they grow out of it," Hayden said. "People get a limousine to drive them three miles."
Though the cost of prom varies from student to student, the Harbinger survey showed that 56% of students paid for at least a portion of the expenses with their own money. 
Students are not the only ones who experience monetary struggles surrounding prom. Due to the economic crisis caused by the pandemic, businesses selling prom-related products have raised prices in recent months in order to make up for lost profit, which impacted the event planning and ticket prices.
"Even between the last prom that Algonquin had, everything is more expensive because businesses are trying to cover costs from when they couldn't hold events," Lessard said. "Those who planned the events have their own stresses as the day nears."
"When I went to junior prom, I took notes on how it was going," senior class adviser Evan Greenwald said. "I learned from the first prom. I'm sure there will be some stress [the day of the senior prom]."
The constant chatter of who's going with whom, who rejected whom and so on creates another worry for promgoers: the expectation to find a date before time is up. In general, the issue of finding a date has seen a downward trend in relevancy during the past few years, as prom dates become more of a casual situation. According to the Harbinger survey, 66% of students took or plan on taking a date to prom.
Hayden, like some other promgoers, didn't find their friends to be very concerned with finding a date. 
"I saw a lot more people going with groups of friends, or with a date but not with someone they're romantically involved with," Hayden said.
Hayden also found that the student body was accepting of, or at least unconcerned with, the choices others made in terms of who to take. 
Bevan agrees that vast improvements have been made since his generation attended prom regarding the LGBTQ presence at school functions.
"I think we're in a much better place [compared to back then], but it wasn't always that way," Bevan said. "You look back on my high school experience and there just weren't that many kids who were out… I think things have loosened up in a way that's really healthy."
The Algonquin school community continues to make progress in terms of inclusion and creating a comfortable space for all. Students are free to express themselves however they feel, putting a spin on tradition while still preserving the timelessness of events like the prom.