REVIEW: The Donut Stand brings artisan donuts to the next level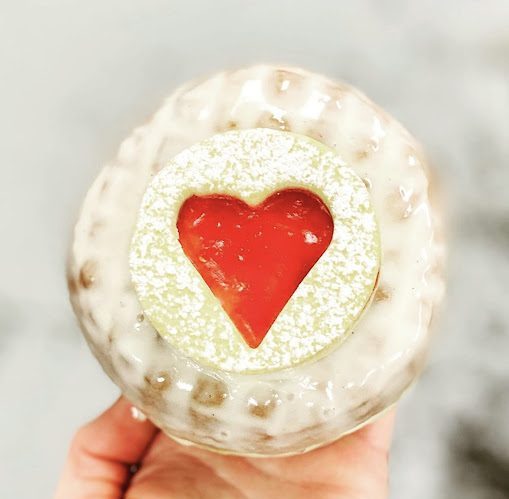 The Donut Stand, a long-standing pop-up shop located in Southborough's The Vin Bin, is here to stay. 
Hanna and Mike Lombardi started the Donut Stand in 2018, a pop-up donut shop inside of their family's wine and cheese business, The Vin Bin. During the pandemic, when The Vin Bin's Southborough location was closed, the couple was forced to operate as a pop-up business, including selling donuts from a van as a drive-thru. After two years of a seemingly unending pandemic, the Lombardis have finally decided to keep their donut shop open for good.
According to their website, the Lombardis have spent their whole lives eating, cooking and playing with food, they also have their lengthy qualifications, both holding an Associate Degree in Culinary Arts and a Bachelor's in Food Service Management and Hospitality Management.  Through running The Vin Bin, they stay true to their culinary roots serving local, seasonal and sustainable food, including delectable donuts at the Donut Stand.
Creating new flavors and incredible treats is a talent not many excel at, but they've created the best blend of flavors all while keeping it simple and delicious. Some of their most popular flavors include chocolate covered strawberry, tahini and sesame toffee crunch, Belgian chocolate ganache, pistachio and their signature cinnamon roll. Unsurprisingly, all ingredients are locally sourced from farmers and wholesale in the New England area. Being a family business for nearly twenty years, they made many connections with local farmers, who are now their main suppliers. The small shop has also partnered with local coffee shops such as Aero Coffee Roasters in Northborough, sending donuts their way every Thursday morning.
Visitors are greeted with a bright LED sign upon entrance with a case of freshly baked donuts lined in front of them, from an eccentric 'Dad Bod Donut' to a classic glazed, they have everything you need to brighten your day. Located with an amazing view of the Sudbury Reservoir, you can munch on donuts and watch the day pass by.
On a recent visit I purchased the Smooch donut for $4 and received a huge gooey donut filled with whipped cream cheese filling, raspberry jam and white chocolate ganache. Unlike other donut places with overbearing, extremely sweet filling, this donut was light and easy to eat. Although filled to the brim, it wasn't difficult to handle. 
The only flaws that I saw and other customers may see with these donuts is the $4 price tag that comes with them, and you can't sit down inside the shop to enjoy them. However, it's a small price to pay for a delicious donut made fresh with local ingredients. Other customers seem to feel the same, as it has not prevented them from selling out their store every single week.