Eurasian educators speak with ARHS students about culture, way of life, academics
With approximately 120 students in attendance, educators from various Eurasian countries virtually visited Algonquin on April 1 to discuss school life, media consumption and compare cultural experiences.
Educators from Belarus, Bulgaria, Czech Republic, Hungary, Kazakhstan, Republic of Kosovo, Kyrgyz Republic, Latvia, Montenegro, Poland, Slovakia, Ukraine and Uzbekistan visited ARHS students via Zoom. All teachers were contacted about the opportunity so students could go to the library to exchange questions with the educators. Librarian Kimberly Honey and Applied Arts and Technology teacher Cathleen Griffin served as the in-school coordinators for the visit.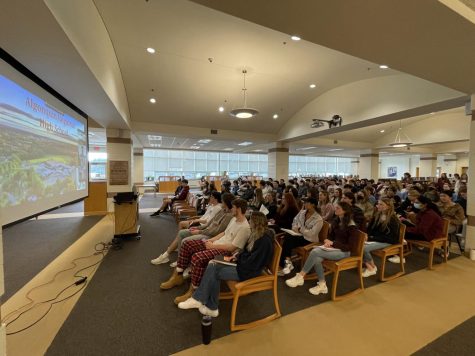 The joint World Boston and State Department program brings participants from various Eurasian regions to the United States for about two weeks to tour several facilities, with Algonquin being the only school. The program has previously visited the school four different times—three in-person and one virtual.
"We are very fortunate that out of all the schools in Massachusetts, we have this connection with the Department of State, and that they have decided to come back to us year after year," Honey said. "I think it speaks volumes about the interactions that the international visitors have had with our students."
Griffin's relationship with international non-profit News Literacy Project was the catalyst for ARHS' connection with the Department of State. Griffin developed her relationship with the organization with her implementation of Checkology into the Digital Literacy course; the course is typically taken freshman year and is a graduation requirement for all students. Checkology is an online learning platform that teaches students about news literacy and how to be an ethical producer and consumer of news. ARHS was one of the first schools in the country to make Checkology a requirement to graduate. The News Literacy Project put Griffin into contact with World Boston, the organization that manages these visits with the aid of the Department of State. 
"The introduction of Checkology was so important because our students see and consume so much information online, and they need to understand how to discern that information," Griffin said.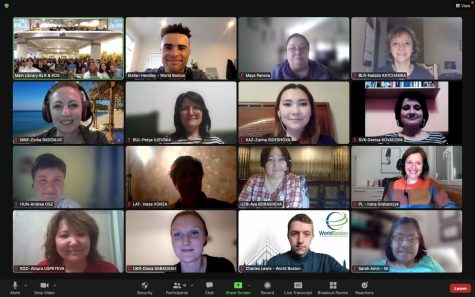 The Zoom conference was held in the ARHS library, where students initially gathered in front of the projector screen. From there, students were directed into various breakout rooms with educators from different countries. After exchanging questions about academics and culture among other things, students then rotated to a different room, where they would meet more educators and continue the process. After three rotations, all participants were redirected into the library to ask some closing questions and exchange goodbyes.
"I think people are more comfortable asking questions when you're in a more intimate setting, so instead of a room with 150 kids, it might be easier if you're in a room of 20," Honey said. 
Griffin believes that when students interacted with the international visitors, they gained insight into the broader world around them. She believes that recognizing different cultures and experiences opened students' eyes to different ways of life.
"I'm a huge believer in real-world experience and real-world connections," Griffin said. "The ability for students to learn outside a typical classroom or a typical textbook tends to produce more meaningful experiences."