AWC's Write For a Cause Night raises $1,500 for Ukraine
The Algonquin Writing Center held its annual Write for a Cause event, which raised $1,500 for UNICEF's emergency work in Ukraine, on April 8 from 6-10 p.m. in the library.
Write for a Cause began in 2018, but was put on hold for two years due to the pandemic. During the event, attendees raise money for the chosen organization while spending the evening doing numerous activities including responding to writing prompts, playing music and games and enjoying food.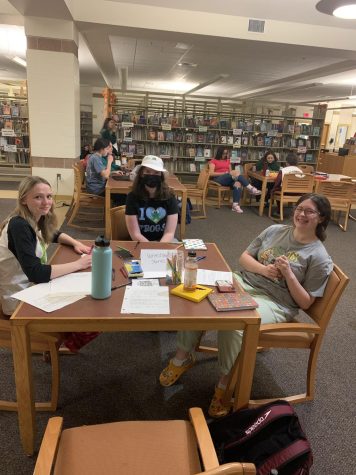 "As Head of Community and Engagement, I am in charge of planning all of the events, and I was excited to bring this event back in full force since we could all be together in the library with minimal COVID protocols and restrictions," junior Alison Hojlo said.
Participants spent the entire camping-themed night writing, collaborating and socializing.
"We were trying to follow a similar model to Relay For Life where you tell your friends and family members that you are going to be part of a write-a-thon, and where you form teams with at least one person per team writing during the whole four hours," Hojlo said. 
Usually, the Write for a Cause event raises money for academic organizations, but this year was different.
"We thought that raising money for Ukraine would be very pertinent to this moment because of the conflict going on; it was a no-brainer," Hojlo said. "In previous years, we have raised money for writing-related charities, but we thought we could make an exception this year."
This year also included the performances by Tri-M music students.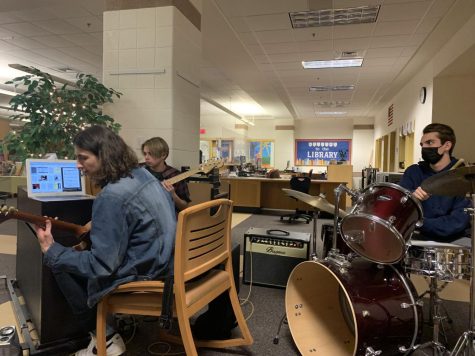 "Tri-M was a great success that we hadn't done in past years," Hojlo said. "Musicians could sign up for half-hour slots, and could perform whatever they felt like. The music served as background music and created a chill, relaxed environment."
The event hosted about 45 participants, and Hojlo was happy with how well it went..
"Everyone was engaged the whole time, and a lot of different things were going on," Hojilo said. "I think everyone had a good time."
Hojlo believes the event was a success.
"Besides the fact that we raised a lot of money for a great cause, I think just getting people together to write and have fun was really great," Hojlo said. "In terms of bettering the Writing Center, we were able to bring in more people who might not have known much about the Writing Center and what we do."