Senior Scoop: An Inside Take on the Algonquin Bathrooms
Hi everyone! Welcome to Senior Scoop, a blog where we review random, but important, things around Algonquin. As seniors, we'd like to say we know the school pretty well, but these ratings are based on our own personal experiences and opinions. Hopefully, our insights are informative and assist you in your time here. First up, we're going to be discussing a crucial part of Algonquin: the bathrooms. 
Rating Guide:
Each review is based on four aspects: cleanliness, functionality, traffic and aesthetics. (Please note: because we're female, these are only based on the girls' bathrooms in each of these locations.)
Cleanliness – How clean are the bathrooms throughout the day?
Functionality – Is everything easily used and accessible? Is there anything that doesn't work?
Traffic – How busy is the bathroom? Is it normally crowded with people?
Aesthetics – Is there anything that makes the bathroom stand out? Any murals or anything interesting to look at?
The final rating is out of five!
H100 – 3/5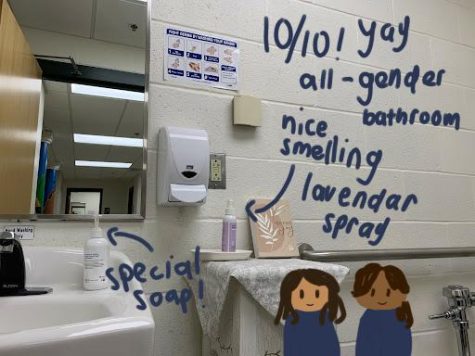 Cleanliness: The bathroom is mostly clean, but there is usually some water on the floor by the sink, which is not fun when you walk back to class with squeaky shoes.
Functionality: Everything in the bathroom works, and there are even hooks on the back of the stall doors for you to hang your stuff up so it won't touch the gross floor. 
Traffic: It is crowded during passing periods, but otherwise, it is not bad. 
Aesthetics: The bathroom is a bit dark, which gives it a somewhat depressing feeling. However, there are mural pillars of a conquistador by the alcove. 
Bonus: The all-gender bathroom in H100 is super cute with decor that's nicer than the student bathrooms and smells nice and fresh. You should definitely use it if you are in the area!
G100 3.5/5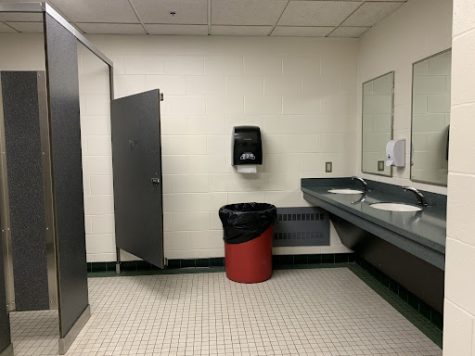 Cleanliness – It's busy, but it's clean. There's not much else to say.
Functionality – The locks are on the bottom of the stall doors so hopefully knowing that saves you some time searching for them when you're in there. There is also only one soap dispenser for three sinks which means the person at the far end has to awkwardly walk over with dripping hands. 
Traffic – It's usually fairly empty during classes but gets pretty crowded during passing periods since it's located in a busy hallway (extra caution if it's during the lunch period–this bathroom gets packed). 
Aesthetics – Outside the entrance to the bathrooms, there is a big multicolored lion mural that looks really cool. Enjoy some artwork as you stay hydrated!
E100 4.5/5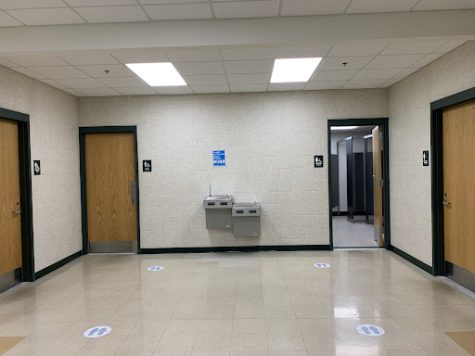 It's very similar to G100, but it is way less crowded! It's an excellent bathroom to use if you are in the area.
Cleanliness – Like G100, this bathroom is usually pretty clean.
Functionality – E100 gets an extra bonus point for the water filling station which isn't present in G100.
Traffic – This bathroom is mostly empty (definitely more than G100!)
Aesthetics – The E100 bathroom is functional but basic and boring. Meh.
A100 5/5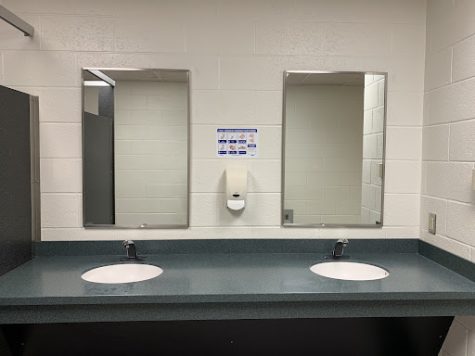 It's our favorite and the best-kept secret in Algonquin. The A100 bathroom used to be only accessible to faculty, guests and special ed students during the school day. Recently, it's been opened up for student use.
Cleanliness – The bathroom is very clean but we've sometimes found half-eaten lunch in the stalls during the lunch periods… (Grossssss)
Functionality – The paper towels are next to the door so your freshly washed hands stay germ-free. Overall, it's in a good location but it's a little out of the way if you don't have a class in the area. 
Traffic – There are fewer stalls but the space still feels strangely large since they're located in the corner. Not a crowded bathroom.
Aesthetics – It's clean, what else do we need to say 🙂
Gold Office 2.5/5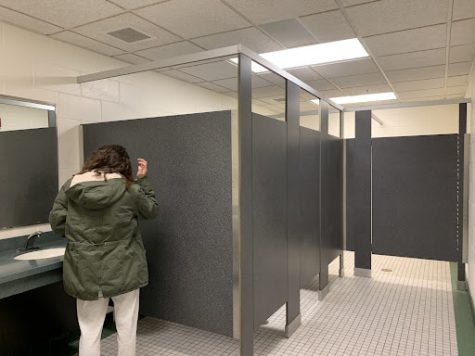 Cleanliness – Overall, it's clean. 
Functionality – Everything works, and there is a baby changing station if you need it.
Traffic – The bathroom is normally not too crowded but is occasionally busy during passing periods as it's near the exit to the senior lot. It's also close to the gyms and provides a better option than the locker room bathrooms (which are way worse than any of these bathrooms, trust us)
Aesthetics – Something about the setup of this bathroom makes it feel cramped, even when you're the only one in it.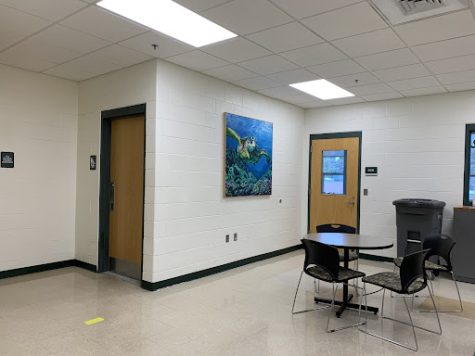 D200 2/5
Cleanliness – Meh, it depends. We'd say it is clean in the morning but it gets gross by the end of the day. It also has a stuffiness and weird smell, so it's definitely not one of our favorites. 
Functionality – Bonus points that there are two soap dispensers for two sinks. Paper towels are near the door, so avoid germs and use them to pull open the door handle. 
Traffic – It's fairly busy since it's in the science hallway and we're guessing a lot of students somehow all need to use the bathroom during science class…
Aesthetics – Eh. Nothing stands out, it's just a regular bathroom. Although, there is a really pretty turtle painting outside so be sure to take some time to admire it.
H200 2/5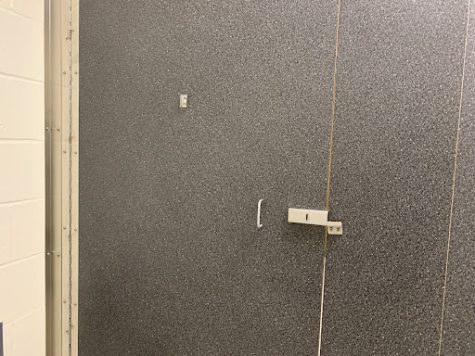 Cleanliness – The sinks are really wet and covered in soap. Take caution when going to place anything, especially your sleeves, by the sink.  
Functionality – The stalls don't lock very well and the hooks on the back of the doors are broken. Either attempt to hang your backpack on what remains of the hook or risk it being on the dirty floor. There's also a water bottle filling station right next door.
Traffic – It is always really crowded, especially during passing periods.
Aesthetics – Not aesthetically pleasing. That's it.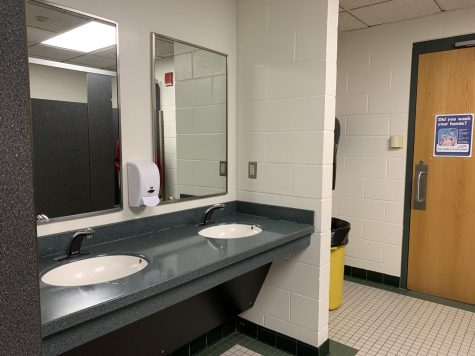 H300 2/5 
The only time anyone will use these is to take a little break during math class because why else would you go up all those stairs to use them?
Cleanliness – It's not exactly the cleanest bathroom… There's usually water on the floor and a friend of ours once found a cracked toilet seat :/ 
Functionality – It gets the job done. 
Traffic – Since it is the only bathroom in the math hallway, it can get crowded before class. 
Aesthetics – Nothing to write much about.
Lunch Bathroom 3.5/5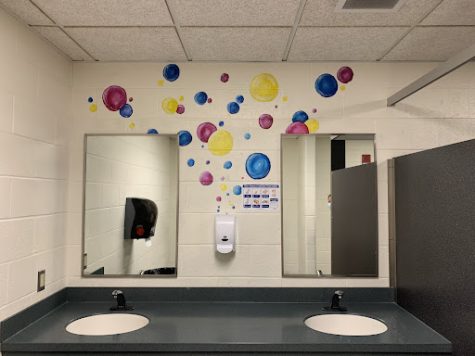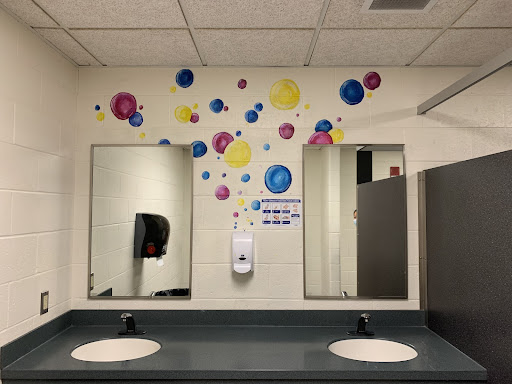 Typically only available during lunch period, this bathroom is bustling with people at the end of lunch, but is a popular hang-out location for a reason.
Cleanliness – It doesn't get very gross, but sometimes you will find weird items in the large stall. 
Functionality – The locks work well, but like in G100, they are on the bottom of the stall. The soap dispensers are almost always out of soap (WHY?? PLEASE REFILL THEM). Located adjacent to the bathrooms is a handy water bottle filling station, as well. 
Traffic – As the lunch bathrooms, there is always someone in the bathroom. You won't get privacy, but you might hear some gossip 😉 
Aesthetics – This bathroom is cute and spacious, which allows many students to hang around at once. Pretty bubbles are painted by the mirrors. 
BONUS: C Bathroom 10000/5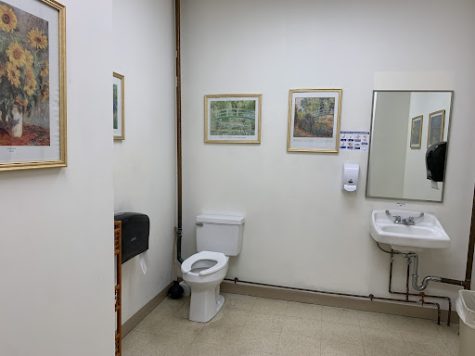 This faculty-only bathroom is the best in the building. The door is usually open so you can use it after school or when nobody is around (oops)!
Cleanliness – It's probably the cleanest bathroom in the school. There's a Febreeze bottle so it always smells nice. Why don't the students bathrooms have air fresheners?
Functionality – So, so spacious wow. You can probably fit 10 people in it, but it's a single-person bathroom! 
Traffic – NOBODY. Do your business in peace.
Aesthetics – This bathroom is super pretty, since it's filled with nice Monet and Van Gogh paintings to enjoy while you're in there.