REVIEW: The Farmer's Daughter provides aesthetic brunch location, farm fresh ingredients
Looking for a delicious, aesthetically pleasing brunch place with locally sourced ingredients? Then look no further than The Farmer's Daughter in Sudbury MA, with a secondary location in North Easton. Located just 15-20 minutes from the Northborough-Southborough area, this restaurant provides a variety of options, including plant-based meals, for a great experience.
I visited The Farmer's Daughter a couple weeks ago for brunch with some of my friends. One of the main downsides is that they don't take reservations, but since we had called ahead of time, we were already expecting a bit of a wait. Upon arriving, we were told there would be an hour and 15 minutes until we would get a table. It was also the weekend before Valentine's Day, which likely added to the crowd. 
Upon entering, the restaurant is in a large U-shape with an open floor plan. There are floor length windows throughout which create a bright, lively atmosphere. The interior is decorated with a rustic feel and lots of greenery. There is also an open kitchen where customers can view meals being prepared. I'd have to say that was one of my favorite parts of the experience, as our table was seated right next to the kitchen, so I got to see lots of dishes being plated beautifully.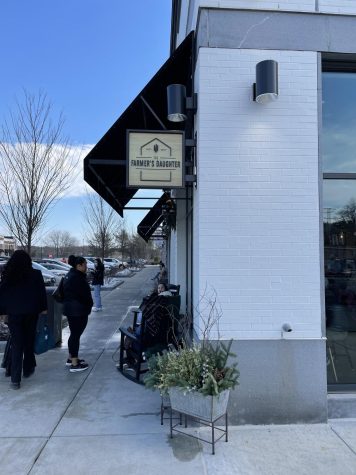 The item we were most excited to order was the French hot chocolate, which is a current special. It came alongside chantilly (a type of cream), chocolate shavings, sliced strawberries and mini brioche french toast bites. The hot chocolate was made of a thick and creamy dark chocolate, which was absolutely delicious. We got to pour and prepare our own hot chocolate with the sides to personalize our own cup. There were five of us, and I think one serving was enough, especially since the ratio of hot chocolate to sides was fairly disproportionate, with too few sides compared to the amount of hot chocolate given. It was also one of their most expensive items at $23.95. 
Our table ordered two additional drinks: the cherry cold brew ($5.25) and the honey mint latte ($5.25). I got a small taste of each and personally felt that the cherry flavor in the cold brew was a bit too overpowering, while the latte could've used some more mint flavoring. I'm not a huge coffee person, but I still loved both of these!
Each of us ordered one of the main course items: Smoked Salmon Smear + Bagel ($16.95), Brioche French Toast Square ($14.95) with strawberries (add on), Todd's "Knock Your Pants Off" Banana Pancakes ($15.95), Avo Egg ($15.95), and the Chicken & Waffle Benedict ($22.95).  
I got the Avo Egg on an everything bagel, which came with a sunny side egg (I ordered an additional), salsa verde and a whole broiled avocado topped with cotija cheese. The dish was plated beautifully but it was a bit of a struggle to eat as the avocado was inside its peel. Still, the flavoring on top of it was delicious, although the cotija flavoring was a little too strong for my liking. A woman at the table next to us saw my dish and immediately ordered the same one! 
I also tried a bit of each of my friends' meals, and I have to say that everything was delicious. The three large banana pancakes were really fluffy and soaked in maple syrup. Similarly, the brioche french toast came drenched in syrup alongside some chantilly cream. This was personally my favorite dish, as I loved the crunchy edges!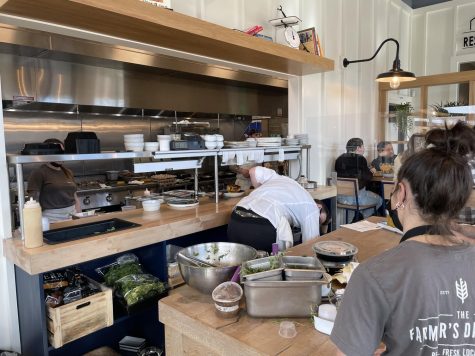 I tried a bite of the chicken from the chicken and waffles, which had a really tasty buttermilk flavor, although my friend said the other chicken piece was a bit drier. The only dish I didn't get to try was the smoked salmon bagel but my friend was particularly obsessed with the salad that came alongside it, as she really loved the dressing. 
By the end, we all left really full and satisfied with the food. Our experience was pretty great, but the prices were on the higher end since the ingredients are locally sourced. Still, I remain skeptical about the fact that there are no price markings for the menu on their website. There are also no price markings for add ons on their menu (simply a +$ marking), which I feel are extremely overpriced at $5.25 for each add on! 
The service could have also been better since our server was a bit pushy at us to buy more food, implying that we weren't ordering enough, which gave my friends and me a negative vibe. 
Overall, the food was beautifully plated and tasted amazing which led us to have a mostly positive experience. However, the unclear pricings, poor service and long wait will keep The Farmer's Daughter from being a place I visit frequently. Still, it's worth the trip for a once in a while brunch with friends or family.