Cafeteria Cookie Craze
The inner workings of the popular cafeteria treats
The cafeteria's chocolate chip cookies, created with cooperation, new ideas and lemon juice, are a delicious treat that have much of the student body asking for more.
According to Cafeteria Manager Dianne Cofer, the cookies have been a huge success. Almost all of the cookies made from scratch each day are sold, and the few that remain at the end of the day are sold the next day. 
"We can have anywhere from five left to probably no more than 25 left," Cofer said.
Cafeteria Baker Leslie Foley has put in a great deal of time and effort to craft a recipe that tastes delicious while still fitting the school's regulation of being whole grain.
"There are semi-sweet dark chocolate chips…there's half whole-wheat and half all-purpose flour, there's brown sugar, white sugar, vanilla, a couple of secret ingredients, maybe some ground oats so there's more whole grain, and I put some lemon juice in which is supposed to make a chemical reaction to make the cookies softer in the middle," Foley said.
Foley makes the dough the day before it is baked in a time-consuming process. She said making the dough, slicing and baking the cookies and bagging every single cookie takes her about 40 minutes per task.
"
"I'm a big fan. They do a terrific job delivering a delicious treat. "
— John Frederick, English Teacher
"I just made a big pot of dough, and we'll roll those out in my bake room," Foley explained. "I have a helper, and we'll roll the dough out and then we'll actually freeze it, so the next morning I will slice those rolls and bake cookies."
In the past, the cookies were not made in-house but were store-bought, reheated and sold. However, evolving regulations meant that the store-bought cookies were no longer up to code, so Foley had to create a new recipe with the guidance of a previous food services manager.
"I got a recipe from home, we worked on it, [the food services manager] got an intern from Framingham State, they did all the calculations, and since then I've been making them daily," Foley said. 
This change in recipe did not go unnoticed by those who regularly buy cookies during lunch.
"I remember a couple years ago, when they made a change, I was like, 'I don't know if these are as good as before,' but now I feel like they're back in full strength," English teacher John Frederick said.
Cofer, who sometimes works at the salad register, said that cookie sales tend to follow a pattern, depending on the lunch line.
"Pretty much every pizza kid gets a cookie," Cofer said. "Most of my salad kids will get a cookie…The two main [hot lunch] lines, it's maybe 50% because those two lines typically sell the least cookies."
According to a Harbinger survey of 127 students from Jan. 2 to Jan. 5 through Google Forms, 71 respondents said they buy at least one cookie a week, and of those students surveyed, 58 rate the cookies a five out of five for flavor.
"I like the texture the most," sophomore Ananya Pandit said. "I like the thickness of them."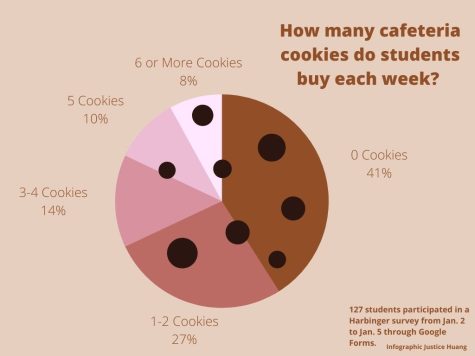 While the cookies are loved by most students, some are not fans.
"I don't know how they make it, but it just tastes like playdough," junior Elenna Peroni said. 
Some teachers also enjoy eating the chocolate chip cookies.
"I'm a big fan," Frederick said. "They do a terrific job delivering a delicious treat."                                                                                       
According to Cofer, each cookie costs about 40 cents to make, and they are sold for a dollar. The income from cookies is reinvested in cafeteria meals. Cofer says that the whole-grain and whole-wheat cookies also have the added benefit of being much healthier than other options.
"If you're going to eat a cookie, I think it's just a healthier cookie to eat," Cofer said.
On average, Foley bakes 500 chocolate chip cookies each day.
"I love doing my job," Foley said. "Who doesn't like the smell of a cookie baking?"
Foley enjoys making others happy with her baking. She is proud of the results, especially when the chocolate chips form smiles in her cookies.
"When people come to work they'll say, 'Oh, it smells so nice in here,'" Foley said. "Sometimes my cookies smile. I make people smile with my cookies, and sometimes my cookies smile at me, and I actually have pictures of smiles in my cookies." 
Foley said that seniors leaving Algonquin at the end of the school year can go down to the cafeteria to obtain a miniature version of the cookie recipe to bake at home—a small reminder of the good life at Algonquin.
What's your opinion on the cafeteria cookies?
Sorry, there was an error loading this poll.