Thrifting Through the Boroughs: Next to New, Northborough
Hello everyone! My name is Katherine Wu, and I love thrifting. I visited Savers for the first time about three years ago and have been in love with thrifting ever since. I've been to Savers countless times, and I've gone so far as taking a day trip to New Hampshire just to visit the unique Goodwill outlet store. Even though I've shopped at many mega-thrift stores, I haven't gotten the chance to check out any of our local thrift stores, which is something I've always wanted to do. Join me in my blog as I explore and review local thrift shops! 
For my blog, "Thrifting Through the Boroughs," I will be diving deeper into each thrift store in five categories:
Styles: What types of styles does this thrift store carry? 
Condition: Are these items usable/wearable? 
Brands: What sorts of brands does this store carry? (Personally, this isn't my first priority, but it can be an indicator of quality and can impact the value if you plan to resell the item later down the road!)
Price: ​​How cheap/expensive is the pricing? Is it worth buying secondhand?
Customer Service/Environment: How was the experience itself? 
In addition to these ratings, I'll be sharing an overall summary and tips throughout! 
Without further ado, let's get started.
The first thrift store I explored was Next to New, a "unique resale boutique" in Northborough. It had been on my bucket list for a while, so I was excited to see how it compared to some of my favorite thrift stores.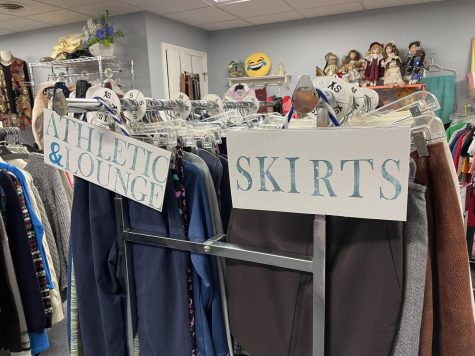 Styles
: 4/10
When I first walked in, I was greeted by many accessories. I was impressed by the wide variety of accessories, but I wasn't as impressed with their selection of clothing. Since I mainly thrift as a sustainable alternative to fast fashion, I look for items I will actually wear. I know thrift stores can't control the donations they get, but there was just nothing special about most of the clothes there. On the plus side, there was a large variety of sizes. 
Condition: 9/10
There were definitely some accessories (specifically wallets and handbags) which looked brand new. Compared to Savers, most of the items there appeared to be good quality and in good condition. 
Brands
: 5/10
With the exception of some accessories, most of the brands I saw reminded me of T.J. Maxx and Marshall's. Fast fashion brands can be high quality, but they have low resale value in the long run.

Price
: 6/10
While there was a "$1" rack, most of the clothes inside were priced higher than those in other thrift stores I've visited. The items not on the "$1" rack ranged from around $3 to $20. I felt like I could've found most of the items I saw cheaper elsewhere, but I do appreciate that a portion of the proceeds are donated to a different charity each month. 
Customer Service/Environment
: 10/10
I think the most enjoyable aspect of Next to New was the experience. I loved the sense of community within the store, with most of the customers casually talking to the cashier. 
Overall: 7/10
Overall, I would give Next to New a 7/10. It's definitely the place to visit if you're looking for new accessories, but it wasn't the best for clothing. Even though it wasn't my favorite, I recommend checking it out at least once!