Red Carpet Reviews: Top 5 looks from the 2021 AMAs
With the return of normalcy this year, we're finally bringing back the tradition missed by many fans and celebrities: red carpets.  The American Music Awards (AMA) on Nov. 21, brought the year to a wonderful close and gave us a chance to react to some of the top red carpet outfits of 2021.
5. Madelyn Cline's all black cutout dress
Madelyn Cline showed up to her very first AMAs in a simple yet elegant dress made by Mônot design. While it was one of the more simple, some might even say boring, pieces of the night, I thought its simplicity paired well with the statement cutouts down the midriff and lower torso. The opened back is very flattering and simplistic while remaining poised and put together. Cline paired the dress with elbow-length leather gloves and a natural makeup look, which added to the elegance and sophistication of the outfit. Her dress was certainly a showstopper, but some of the outfits higher on this list were more original and creative.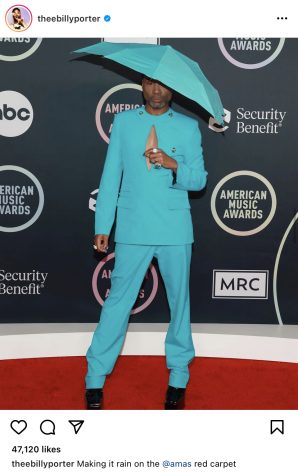 4. Billy Porter's bright blue umbrella ensemble
Billy Porter, one of the hosts of the show, is well known for his often bold fashion choices and unique taste. The AMAs were no exception: he arrived in a bright blue suit paired with a matching umbrella styled by Richard Quinn. The fit and style of the suit was simple, so as to not draw attention away from the extravagant color and the outfit's focal point, the blue umbrella. I thought it was interesting to see a man wearing something so exciting and bold, as usually the women at red carpets are more likely to push boundaries. The black platform boots added a point of contrast, yet they did not take away from the outfit itself. 
3. Kali Uchis' pink corset piece 
Kali Uchis, a first time attendee and winner at the AMAs, wore a stunning baby pink dress, featuring a corset-like bodice created by Sinead Gorey. This monochrome outfit features a corset top, knee-length boots and a floor-length matching robe. I love this piece because it was very original, but still very elegant and fit for the red carpet. I thought the color of the dress flattered her skin tone and was very neutral yet poised. It was exciting to see a corset on the red carpet, given that they were such a big staple in fashion this year, even for everyday people. 
2. Olivia Rodrigo's halter floor length dress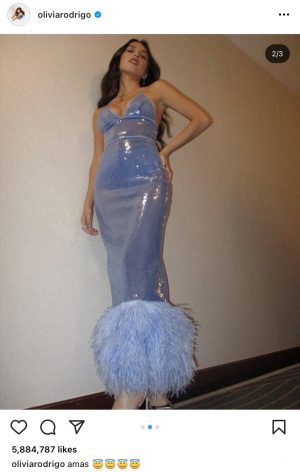 Olivia Rodrigo certainly made a splash at her very first AMAs, especially considering she was nominated for Best New Artist and won. She also  performed in front of millions of people. In addition to winning the award, she was one of the best dressed attendees present at the show. Her floor-length, sheer dress designed by David Koma was absolutely stunning and mimicked a prom dress in style.  I thought it was very flattering on her body type, and made her stand out on the red carpet because of its unique color and shape. My favorite part of this dress is the feather trim at the bottom, which adds a unique and exciting twist to the otherwise simple dress.
1. Winnie Harlow's sheer bodysuit
Not only was Winnie Harlow's sheer bodysuit by Zuhair Murad one of the best outfits of the night, but in my opinion, it was one of the most original. So many of the looks worn by celebrities on red carpets are floor-length gowns or poofy dresses, whereas this dress was unique in it's short, tight fit and plethora of dangling body jewelry that added to the overall flow of the piece. This outfit is personally my favorite for its unique design, the way it flatters Harlow's skin tone and body type and the creativity within the different kinds of beading. Additionally, Harlow wearing an almost entirely sheer piece is incredibly impressive, considering how much she has been tormented and criticized for her skin (Harlow has a rare skin condition known as vitiligo, which causes some areas of the skin to lose pigmentation). Her using this condition as an asset instead of a hindrance is an inspiration to young people with vitiligo everywhere. 
Overall, the AMAs definitely did not disappoint as far as new, creative looks go. It was exciting to see so many popular stars embrace the fun and creative nature of these events again. Hopefully these innovative looks continue as more events and award shows happen, including the upcoming Golden Globes on Jan. 9th. I am looking forward to see how everyone shows up to the first fully in-person Golden Globes since the pandemic.