Sophomore speeds through life on his racecar
From racing go-karts to real cars, sophomore Ryan Ledoux has been driving on the track for years.
Ledoux, a racing enthusiast, has been an involved member of the motorsports community since 2017. Since his father introduced him to racing when he was young, he has spent countless hours honing his skills and becoming an accomplished driver.
"I got into racing through my family," Ledoux said. "I originally started racing three years ago. I started to do track days to get seat time. Then, this past May, I did my first race. Since then, I have been to three three-day race weekends, and they have been a blast."
The first generation Mazda MX-5 Miata, known for its incredible handling, is Ledoux's vehicle of choice. Although he competes in the stock racing class, in which no vehicle performance modifications are permitted, there is still plenty of speed.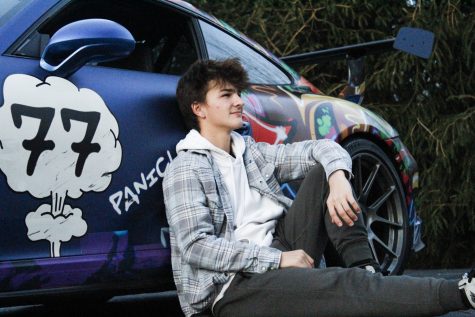 From Thompson Motor Speedway in Connecticut to Monticello Motor Club in New York, the speed is a constant factor to his passion for driving. Ledoux said the adrenaline rush from driving at upwards of 120 miles per hour around a track hooked his interest and has kept him driving as much as possible. 
"I enjoy driving because it is such a unique experience," Ledoux said. "There is nothing like it, in my opinion. You get such an adrenaline rush, and it requires so much focus, accuracy and precision. It feels so good when you do certain corners right."
According to Ledoux, car repairs are expensive, so he taught himself to work on and fix his own car.
"I plan to use racing as a hobby or reward for my hard work," Ledoux said.  "Racing is expensive, and there is no money to be made in the sport. I need to work hard outside of it to afford it and use it as a motivator to get things done."
Although racing is a significant part of Ledoux's life, it does not affect his interactions with others much off the track. However, many people are surprised to learn about his hobby, especially considering his young age.
"Racing does but it doesn't affect my life," Ledoux said. "It's something I certainly keep on the down low and don't talk about it much, but when I do, it's a great conversation starter."
Ledoux believes that if somebody enjoys racing simulators and wants to try real racing, they should start with go-karts and learn the basics first. This can save money, time and effort if the person decides they do not enjoy driving.
"If you are looking to get into racing, I definitely suggest starting out with go-karting," Ledoux said. "Then, I would suggest taking your street car, making it safe, doing a few upgrades, taking it on some tracks and seeing if it's something you want to get into before you go all out."
Although he does not have his junior operator's license yet, he still races cars regularly, proving that anybody can participate if they have the desire.