Two Thanksgiving recipes anyone can make
Apple Crisp
Apple crisp is easier to make than pie, but still has all the flavors of fall. Basically, it's the best dessert to make for Thanksgiving. Who wants to stress about a pie when apple crisp is a hundred times more simple? This recipe can be modified to your liking and loosely followed. 
Ingredients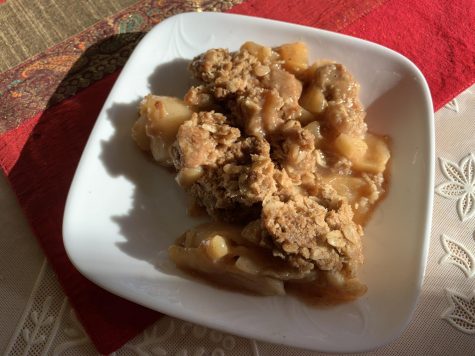 For the apple filling:
Around 8 apples, peeled and sliced 

½ cup brown sugar

¼ cup flour

1 tsp cinnamon

½ tsp nutmeg

1 tsp vanilla

2 tsp lemon juice

Pinch of salt
For the topping:
½ cup flour

1 cup oats

½ cup brown sugar

¼ cup or ½ stick butter (cubed and cold)

1 ½ tsp cinnamon

Pinch of salt
Directions
Preheat the oven to 350°F. Grease a baking dish (9×13 pan or 4 quart baking pan). 

In a large bowl, mix together all ingredients for the apple filling. Transfer into the prepared baking dish.

In a medium bowl, whisk together flour, brown sugar, cinnamon and salt. Using a fork, pastry cutter or hands, work in butter until mixture is crumbly. Add oats and combine. Sprinkle on top of the apples.

Bake until the topping is golden brown, around 45 minutes. 

Serve warm. Top with vanilla ice cream, if desired.
Steamed Sweet Potatoes
Simple and delicious, steamed sweet potatoes deserve a spot on your Thanksgiving table. It's perfect for lazy or bad cooks, and it doesn't require precious oven space.
Ingredients
3 lb. sweet potatoes, any kind (6 small or 3 large), scrubbed
Directions
In a medium pot with a steamer basket, bring a few inches of water to a boil. 

Place sweet potatoes into the pot. For large potatoes, cut in half if necessary. Cover, reduce the heat to medium, steam until fork-tender, around 25 minutes.

Serve plain or with seasonings of your choice, like salt and pepper.
Enjoy your dishes!