Barker graduates from CAP program surrounded by loved ones
Friends and family celebrated postgraduate Kaleigh Barker's graduation from the Community Access Program (CAP) and her 22nd birthday on Monday, Nov. 15 in the cafeteria. 
Barker will be very missed by her teachers and peers, not only because of her upbeat personality, but also because she has been heavily involved at Algonquin for eight years. 
"Kaleigh has been involved in life skills DECA and Best Buddies since her freshman year, which she is on the officer board for now,"  special education teacher Caitlin Hynes said. "She has fulfilled many roles in Best Buddies, one being our inclusion director, which is a special role we created with Kaleigh to help make sure all of our activities fit all of our buddies."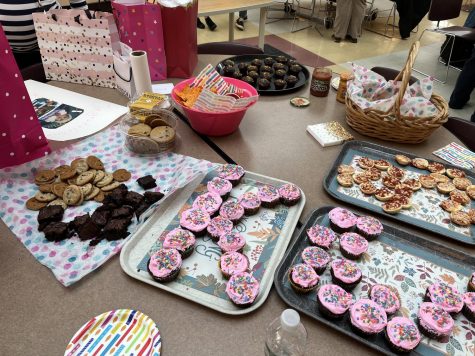 Hynes states that Barker's personality is what makes her stand out.
"She is incredibly smart, very hardworking and helpful," Hynes said. "She is a great self-advocate and knows to ask for help when she needs it." 
Beyond the CAP program, Kaleigh has volunteer work and activities lined up in her future. 
"Kaleigh plans to volunteer at Finn Elementary School with their preschool program for three days a week," Hynes said. "She will also continue to be a part of Best Buddies in some role here and hopefully at Framingham State [University]. It's also likely she will join some events through Thrive [Support and Advocacy Program]."
Specifically, Director of Student Support Services Marie Alan states that Barker excels in working with children. 
"She does a wonderful job working at the Finn Elementary School with preschoolers," Alan said. "She reads to them, attends to their needs and is excellent at assessing what she needs to do with kids that age." 
According to Alan and Hynes, Barker's positive attitude will be missed most by her peers in the CAP program.
"She is just so involved in working with kids, getting a job and you can tell she is just so motivated to do well." Alan said. 
"I am definitely going to miss her enthusiasm in the classroom," Hynes said. "She is always really happy, ready to work and jumps in to help other kids when they need it. You can tell she just loves being here, so it will be really sad without her tomorrow."