Writing Center to hold Night Against Procrastination
The Algonquin Writing Center (AWC) will hold its annual Night Against Procrastination on Friday, Oct. 8 from 7 p.m. to 10 p.m., designed to provide students with dedicated time to work on their college essays. 
"I'm hoping that students will be productive on their college essay and also come together to collaborate and talk about their writing," Events Coordinator senior Alison Hojlo said. "We're looking forward to putting on more events and returning to some sense of normalcy."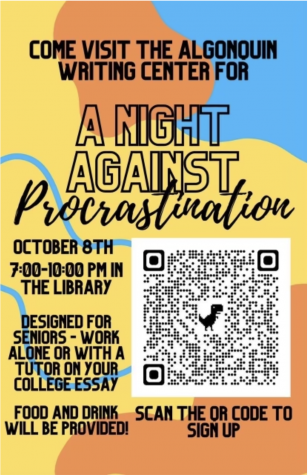 Tutors from the Writing Center will be there to provide feedback and answer any questions, but everyone is welcome to attend, regardless of whether they are looking for help. English teacher and AWC adviser Seth Czarnecki recommends seniors who are working on their college essays to collaborate with their classmates during the night. 
"For anybody that is looking to work on a college essay, I think that the best thing to do is to talk out your ideas with another person, particularly somebody who is going through the same process," Czarnecki said. "I think conversation can be extremely generative, and one person's idea can spark one in yourself, and that's what the Night Against Procrastination is really about." 
The Writing Center reopened for this school year last Monday, Sept. 27. They have expanded their availability to two online tutoring models: Pen-Pal Tutoring and Virtual Tutoring. They are also available in-person during the day (periods two, three, four and six), and after school Tuesday through Friday. Students can book an appointment or submit a draft for feedback within 48 hours through the AWC website. 
"Hopefully things [this year] are a little more accessible for folks," Czarnecki said. "Our hope is to create more opportunities for people to write for the sake of writing, instead of always tying writing and tutoring to the classroom."