New policy incentivizes attendance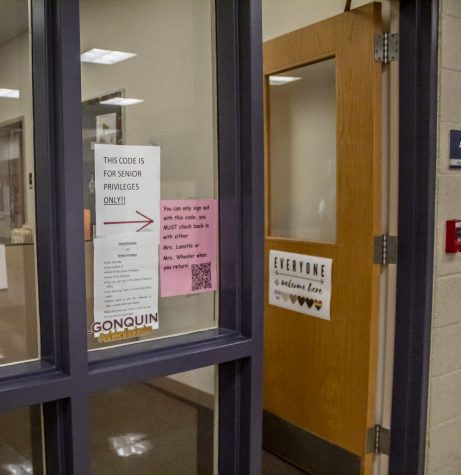 This year, the ARHS administration will implement a new policy for students in grades 10 to 12 to encourage better attendance by rewarding students for maintaining strong attendance and penalizing students who don't.
"The goal is to incentivize kids to develop good patterns of attendance in their sophomore, junior and senior year so that senior year is a good attendance year," Principal Sean Bevan said. "Right now our policies really don't work to incentivize and promote having good attendance."
Attendance patterns from the 2018-2019 school year revealed that 176 Algonquin students were "chronically absent," which the DESE (Massachusetts Department of Elementary and Secondary Education) defines as missing 10% or more days of school. Out of those 176 students, 45% were seniors.
"Our attendance data from two years ago, when we had a full school year, is what I think is a bit problematic and worrisome," Bevan said. "With strong and attractive privileges, we can work with seniors who might have poor attendance and let them know we want to see them attend classes and be successful but also see them at the football games and dances."
Under this new policy, students in grades 10 to 12 with four or less unexcused class absences in one term can gain certain privileges such as the ability to spend time in common areas during a study hall, and, juniors and seniors can leave early if they have a study last period. Students with five or more absences in one term won't be able to attend school events including prom and sporting events.
Librarian Kim Honey, Assistant Principal Tim McDonald and guidance counselor Jason Lessard formed a PLC (Professional Learning Community) to create and implement this policy. It was presented to the faculty in the spring and did not have to go through the school committee because it didn't counter or change anything in the student handbook.
"There has been a very long conversation at Algonquin about changing the attendance policy, the main thing being making sure kids are going to class and what we can do to inspire them to attend their classes," Honey said. "Our recent conversation has been moving from punitive measures to rewards."
The policy has upset some students, who claim that some aspects are unfair.
"It only benefits people with studies, yet penalizes everyone regardless of whether they have a study, which isn't completely fair," sophomore Sylvia Gaskamp said.
"We get punished a lot and we are under a lot of stress as students with homework, academics and extracurriculars, and this is just adding on to the stress," senior Ana Karaban said.
Meanwhile, other students believe the policy could be successful. 
"I definitely think it's an effective way of encouraging students to come to school, especially the upperclassmen, because they have more privileges," sophomore Kate DiTullio said.
Junior Ben Schanzer, who is the Student Council president, has mixed feelings about the policy.
"The general idea of students needing to be in class is a good one, but the approach is not ideal," Schanzer said. "I was supportive of the idea to give students more freedom and rights, but felt that this year wasn't the year to implement it with COVID-19 and with everyone trying to push the message that if you feel sick then you should stay home."
Honey is optimistic about the new plan and its projected impact on student attendance.
"I think this new attendance policy is going to be a major shift, and it certainly will take some getting used to, but I think the long-term positive impact is going to be great," Honey said.