REVIEW: 'Shang-Chi' brings engaging plot, Asian-American representation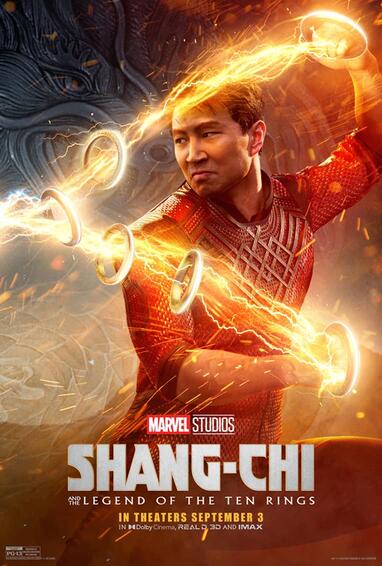 Composed of action-filled fight scenes and stellar visual effects with a refreshing lack of romance, Marvel's newest movie "Shang-Chi and the Legend of the Ten Rings" is worth a watch. Directed by Destin Daniel Cretton, the movie is a stand-alone film that doesn't require any previous Marvel knowledge. 
The opening scene tells the backstory of Shang-Chi's father Wenwu, played by Hong Kong's superstar Tony Leung. With the power of ten magical rings, he is the immortal leader of the terrorist organization 'The Ten Rings.' His reign continues until he falls in love with a woman named Jiang Li from a hidden village called Ta Lo and marries her, putting away his rings to start a family. Upon his wife's death, however, he resumes his reign of terror. 
The film then follows Shang-Chi (played by Simu Liu), who is living a supposedly ordinary life as a valet called Shaun with his best friend Katy (played by Awkwafina) in San Francisco. Yet his plans to stay in hiding quickly fall apart when his father sends members of his army to capture him and bring him home for his own plans. 
The rest of the movie is filled with incredible action, martial arts, special effects and visual scenery that show the devastation and misunderstandings of their family's history as Shang-Chi and his sister Xialing (played by Meng'er Zhang) must fight against their own father's army. Despite the darker story, there are still plenty of humorous moments, thanks to Awkwafina's character. 
The plot was refreshingly new for superhero movies since it focused on family rather than romance and lacked toxic masculinity. The exceptional acting of Liu, Zhang and Leung effectively portrayed the complicated familial relationship between Shang-Chi, Xialing and a once-again power-hungry Wenwu. The movie isn't a story about Shang-Chi himself, but about the difficult choice he faces with his family history. He must learn how to reconcile his father's previous sins while also following his own path towards a fresh start. 
As Marvel's first movie with a predominantly Asian cast, "Shang-Chi" has been especially impactful to the Asian American community, topping the box office for its third week. With arguably the best action scenes in any Marvel film to date, the fight scenes blended many traditional Chinese martial arts techniques like Tai Chi, Shaolin and weapons. Several mythical beasts from Chinese culture were also present, such as a lion-shaped dragon that is often found in Buddhist temples, a nine-tailed fox that symbolizes peace and prosperity, as well as dragons and phoenixes. Furthermore, many characters in the film spoke in Mandarin, rather than all of them magically knowing English.
Even the music was produced by Asian/Asian-American record label 88rising. The soundtrack featured well-known Asian and Asian-American artists such as JJ Lin, Mark Tuan and keshi. They are worth listening to, even if you didn't watch the movie. 
Cretton's "Shang-Chi" is not your regular superhero film. It features a complex family relationship with relatable characters, along with powerful visuals and an incredible soundtrack. This movie will surely satisfy both Marvel fans and regular viewers alike.