Girls' outdoor track ends season on high note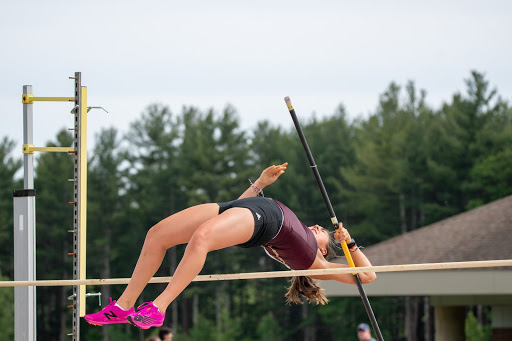 To continue their undefeated streak, the girls' outdoor track team defeated AMSA 105-40 at their last meet on May 25.
Freshman Ula Bazikas contributed to her first undefeated season on the team. 
"[The season] was really good because we won all of our dual meets, and we were undefeated," Bazikas said. 
Bazikas qualified to go to Districts on June 12 for javelin. She made it in the top three for the event.
"I was really excited and nervous, but I was happy because I wasn't going for a running event," Bazikas said. "It's a lot more stressful when you're running instead of when you are doing a field event."
Since outdoor track is a spring sport and case numbers declined, some COVID restrictions were lifted. 
"We had to wear masks at the beginning of the season, but [the coaches] weren't really strict with it," Bazikas said. "You can't run three miles with a mask on." 
Hoping for a normal season next year, freshman Ava Gonsiewski is excited for team bonding activities. 
"There will be more team activities because this year we had the different cohorts for a while," Gonsiewski said. "There's a lot of people who do track, but team pasta parties would be fun." 
To add to their perfect record, the team won the district championship on Saturday June 12.
"For me, I've never experienced something like that and we competed against a lot of schools so it was pretty impressive."
Wachusett Regional High School, one of Algonquin's rivals, placed after Algonquin which usually does not happen. 
"It was really exciting," freshman Lindsay Ogar said. "We were really close with Wachusett and we are every time, but this time we beat them by a little and it was really exciting."
Eight different girls scored in multiple events which helped Algonquin to place higher.  
"I know it was cool for the seniors because it's their last time and they've been doing [track] for a while now."
The team is looking forward to another great, and hopefully undefeated, season next spring.