REVIEW: Summer vacation gone horribly wrong in complex mystery of "Who Killed Sara?"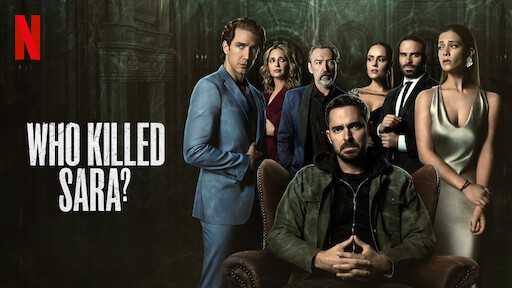 Was it a paragliding adventure gone wrong, an accidental homocide or a stone-cold murder? After his sister Sara Gúzman died, protagonist Alex Gúzman was ruled guilty of neglected homicide and imprisoned for 18 years, but he knows there's something deeper at play in the show "Who Killed Sara?"
A show centered around family, love and revenge, this Netflix original series focuses on the death of Sara in a paragliding accident while on vacation with her brother and her boyfriend's wealthy family, the Lazcanos. Her death left everyone questioning what truly happened that day. Unfortunately, her brother, Alex, was tricked into confessing for the neglected homicide (an accidental murder caused by negligence) by the Lazcano family and sentenced for 18 years. However, he spent those years plotting revenge, and once he was released, he began to unravel the secrets shrouding Sara's death.
As the mysterious events that led up to her death begin to unfold, viewers are left with a boatload of questions as hints of a more sinister motive is revealed. In addition, "Who Killed Sara?" grapples with controversial topics like teen pregnancy, religion and culture, patriarchal standards and LGBTQ+ rights in an intriguing manner that keeps the show relevant in today's society.
A major point of tension throughout the series is how the religious and cultural beliefs of the older characters interact with the modernized views of the younger generation. This can be seen in Sara's boyfriend's younger brother, José María Lazcano (Eugenio Siller), who's in a relationship with another man and trying to have a baby through a surrogate mother. This puts a heavy tension on his relationship with his strict Christian parents. This interaction of ideologies helps illuminate the tensions and arguments held throughout the show.
Stylistically, creator José Ignacio Valenzuela opted for a mix of present and past scenes. With a cast of younger actors to play the teenage versions of each character, Valenzuela slowly reveals the true events of that fatal day, while simultaneously leaving viewers with even more questions about this constantly-evolving mystery.
With numerous plot twists and cliff hangers that leave viewers wanting more each episode, this show (with two seasons so far and more to come) instantly enthralls viewers into the complex mysteries of that summer afternoon and the decades worth of lies that follow it.
After a binge of the first and second seasons of the show, we may finally find our answers. Or maybe we'll still be stuck wondering: what truly happened to Sara Gúzman?