ABCs of Chinese Food: How to make chive pockets
Similar to a large dumpling, chive pockets, or 韭菜盒子 (jiu cai he zi) are a delicious snack and meal that is popular in Northern China. The dough is very simple, made purely from flour, salt and hot water. After kneading and resting for 30 minutes, it becomes easy to work with. The filling is made from eggs, green chives and vermicelli noodles (which can be found at most local Asian markets). It doesn't require any special techniques to fold, and after pan frying, the outside should be golden-brown and crispy!
Ingredients
Dough
2 cups (260 g) all purpose flour
¾ cup (180 mL) hot water (180 degrees)
1 tsp salt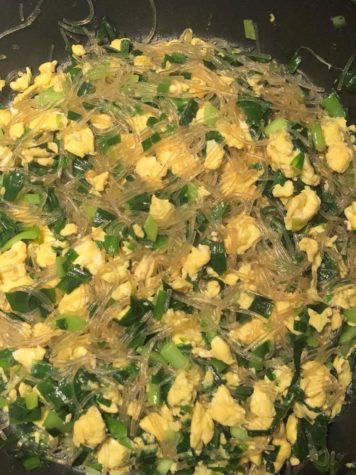 Filling
4 eggs
2 tsp Shaoxing rice wine
2 tsp soy sauce
Salt (to taste)
1/4 cup papery dried shrimp (xia pi) (optional)
50 g dried mung bean vermicelli noodles
2 tbsp peanut or vegetable oil, divided in 2
1/2 lb (225 g) Chinese chives
2 tsp sesame oil
Directions
To make the dough, combine flour and salt in a large mixing bowl, and mix well. Slowly pour in hot water, stirring with a chopstick or fork. Knead until a soft, smooth dough forms. 

Cover the bowl with a damp kitchen towel. Let the dough rest for 30 minutes.

Boil vermicelli or any type of rice noodles according to package directions. 

Prepare the filling by chopping chives into ¼ inch pieces and cooked rice noodles. 

Heat a pan with 1 tbsp oil, scramble eggs, then add chopped chives, noodles, dried shrimp (optional), soy sauce, sesame oil and rice wine (can be optional).

Divide the dough into 10-15 pieces. Roll out each ball of dough, keeping the edges thinner and the middle thicker. 

Add filling to each piece of dough, then fold the dough in half and pinch to seal. Start from the middle and work your way to the outside edges. (The amount of filling you add will depend on the size of your dough pieces.)

Heat 1 tbsp oil and pan fry chive pockets for approximately two minutes on each side. Adjust the time as needed, and add more oil for additional chive pockets. The outside should be golden brown and crispy. 

Enjoy plain or with your favorite dipping sauce such as black vinegar! They also pair well with a bowl of congee.