Celtics face important decisions in offseason
The Boston Celtics were an average basketball team this season. There's just no way around this fact and it can be seen with their 36-36 record, early exit from the playoffs and on-court decision-making. Danny Ainge stepping down and Brad Stevens moving into his old job will undoubtedly change things, but I believe more can be done to help the team. 
The Celtics had several issues that repeatedly manifested themselves on the court this season. One such problem that was hard to miss when watching the team was an abrupt stop in ball movement, usually followed by an early-in-the-shot-clock three-point attempt. 
This pattern speaks to an apparent lack of cohesion amongst the team's players, and this missing chemistry likely played a part in the team's mediocre season.  
While the team undoubtedly needs to make changes this offseason, it's also important to acknowledge the bright spots on the team. To find these positives, look no further than the organization's two star players, forwards Jayson Tatum and Jaylen Brown. 
Tatum and Brown were both All-Stars this season, and when taking into account their young ages (23 and 24 years old respectively), it is awfully hard to not be bullish on the impact they can have in Boston for years to come. 
I'm sure the Celtics' management realizes this, so I wouldn't expect the team to trade Tatum or Brown, nor would I want them to. The only possible scenario where I'd consider moving either player would be if a star player like Timberwolves big man Karl-Anthony Towns or Wizards guard Bradley Beal becomes available. In that case, I'd think about trading Brown but would still hesitate to do so. 
However, it seems unlikely either of these players will be moved this offseason. According to the HoopsHype podcast transcription Karl-Anthony Towns Trade Possibilities: Knicks, Warriors, More, Towns doesn't seem likely to be on the move soon. Along the same lines, the NBC Sports article Bradley Beal feels vindicated by sticking with Wizards through trade buzz relays Beal's mindset, which suggests he is content with his situation in Washington. 
So, with the availability (or in this case, unavailability) of Towns and Beal established, and with Tatum and Brown almost certainly staying put, what can the team realistically do this offseason to improve the organization's future outlook?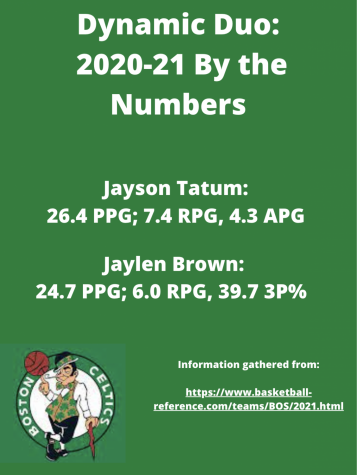 There are two changes that strike the balance between retaining the best players while also significantly altering the organization's structure, and one of them has already occurred.
I believe changing the role of the team's eight-year coach, Brad Stevens, was the right call. I'm sure plenty of Celtics fans will argue that Stevens has a great mind for the game, which he does seem to have. 
To me, Stevens' issue was the lack of year-to-year progress the team made under his watch. According to the ESPN webpage Brad Stevens Career NBA Coaching Record and Bio, Stevens had a career playoff record of 38-40. Stevens also never reached an NBA Finals in Boston in a coaching role, even though there have been a handful of All-Stars on the team over Stevens' time in Boston. I believe the Celtics should continue to aspire to be a championship-winning franchise, and a record below .500 in the playoffs from Stevens simply wasn't achieving that goal.
Another idea to improve the team is to deeply consider trading guard Marcus Smart. This would be a tough pill to swallow for many fans, as Smart is beloved by lots of the Celtics faithful for his hustle-oriented playing style.
However, Smart didn't shoot efficiently from deep this year. As the NBA.com page Marcus Smart | Stats details, Smart made only 33% from three this season, which is his worst mark since the 2017-18 season. Even with this unideal shooting percentage, Smart likely holds trade value for his defense. As such, the team could probably get a solid return for him. So, if the right deal comes along, the Celtics should trade Smart. 
All in all, the Celtics need to improve going into next season. And if I, a 17-year old fan, can realize this, then I'm sure the team does too. If for some reason the team is confused about how to make such progress, here's another piece of advice: In addition to altering Brad Stevens' role, I believe giving serious thought to a Marcus Smart trade is another perfect move to get the team back to their long-standing winning ways.