REVIEW: 'The Vanishing Half' explores race, identity through engaging narrative
Set from the 1940s through the 1990s, Brit Bennett's "The Vanishing Half" tells the fascinating story of twin sisters whose lives suddenly diverge in early adulthood. While they both leave their hometown of Mallard, Louisiana at the same time, one returns years later to face her past. The other buries her past in layers of lies by crafting a new identity, but can the past stay buried when the twins' daughters unexpectedly meet? 
Bennett's fresh take on a tale exploring race and identity centers around twins Desiree and Stella. Desiree has always been bold and outspoken, while Stella conceals her feelings and secrets behind a quiet, austere facade. One day, Stella disappears into a new life in which she passes as white, abandoning her true identity as a black woman. She feels safely hidden in the life she has manufactured for herself, until she meets Desiree's daughter, Jude, who subsequently threatens to reveal the truth Stella has been hiding from everyone, including her own daughter Kennedy.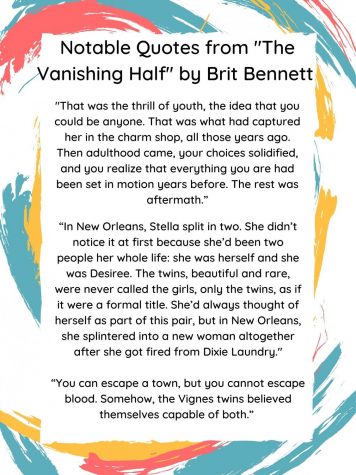 Through engaging dialogue, shocking plot-twists and fascinating details, Bennett eloquently crafts a story that explores racism in America through the eyes of black women. According to the Los Angeles Times article, "Her mom inspired her book on race and identity. Then came the Hollywood bidding war," the novel was inspired by her mother's memories growing up in a Southern small town, in which black people with lighter skin were admired. In her story, Bennett delves into the racial injustices throughout society and how they shape people's choices.
After being published on June 2, 2020, this highly-praised novel remained on the New York Times best-seller list for over 37 weeks, was selected for the Good Morning America Book Club and is going to be turned into a HBO TV series. In 354 pages, Bennett crafts an emotional, impactful read.  
While the novel is a more challenging book due to its complicated plot that spans several decades and multiple generations, it stands out for both Bennett's exceptional story-telling and the relevant social themes it explores. 
The Vanishing Half is sure to provide intriguing insight and new perspectives into the discussion of racial identity in America in the form of a superbly written narrative that will keep you engaged until the final page.