Girls' indoor track team uses Fall 2 season to prepare for competitive outdoor season
In a season with only two meets, the girls' indoor track team used the Fall 2 season to prepare for outdoor track and have some fun.
The indoor track season typically occurs in the winter, and runners usually run inside, hence the name. However, this year, the season ran from late Feb. to late April, and it occurred outdoors. The team did not have a record this season, as they chose not to score the two "friendly" meets they had and instead raced for fun against Shepherd Hill and Wachusett. 
"This season was successful with the two meets we had," senior captain Anna Long said. "It was good to get people in shape and introduce some new girls to the team and get them racing experience before the bigger team in the outdoor season."
Because a significant theme this season was preparation, a large amount of focus was placed on the underclassmen, who would make up the future of the program. According to junior captain Caroline Freeman, the freshmen stood out the most on the team.
 "Lily Fruhan and Olivia Guckian are both freshmen but have so much potential," Freeman said. "Those two girls will definitely go places in the future, I am looking forward to seeing them grow as runners."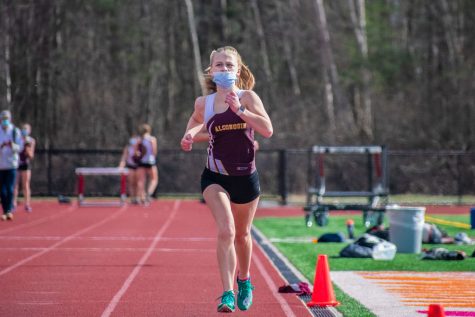 Senior captain Christina DeFeudis agrees that freshmen stood out, but also thinks that the seniors will contribute to the team significantly in outdoor track, which is in the Spring season.
"The Bazikas twins [freshmen Austeja and Ula Bazikas] have worked super hard and are going to be super competitive next year," Christina DeFeudis said. "Also we have a huge senior class that we hope can help dominate at some meets in the outdoor season."
Despite several differences this season, the team continued to make memories together.
"Oddly enough, I think the season's highlight was the bus ride home from Shepherd Hill, our first meet," senior captain Danielle DeFeudis said. "Not one person had a frown on their faces. We all had a lot of energy, even though we had just raced. I think everyone was excited to be competing again."
Although the seniors still have another outdoor season together, Danielle Defeudis already misses her memories in 'indoor' track..
"I will miss bonding moments with my teammates, specifically on our Saturday morning bus rides," Danielle DeFeudis said. "I have formed close friendships with people I would not have necessarily crossed paths with otherwise."