Senior takes on role as musical writer-director
While quarantine left many students feeling bored, lazy and unmotivated, senior Miranda Slingluff put her energy towards composing and creating a musical, set to hit the stage this June. 
Slingluff has been performing and writing music her entire life but has been working on this particular project for two to three years, with most of the work being completed during quarantine. Originally, she had no intention of writing a musical, but her curiosity led to research that sparked ideas about a potential story to create. 
"I fell down a rabbit hole of generations… what makes our generation different?" Slingluff said. "The  question became broader, and then it was just what makes people, people?"
The musical, "Paralleled," features a small cast of 10 ARHS students and tells the story of a college student named Alice. There are actually two versions of the character: the Alice that the world sees and the personified version of her inner monologue. Junior Sarah Boush plays Alice, while senior Sonja Mott plays the personified version of her head, otherwise known as IM. The audience experiences Alice's struggles with mental illness, trauma, sexism and other serious calamities as if they were going through it themselves.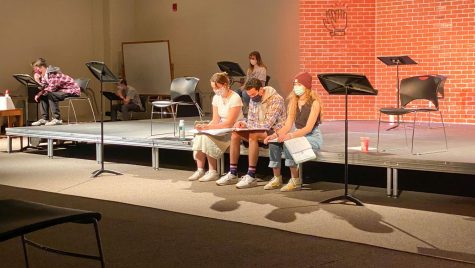 "I wanted to write about something that was real," Slingluff said. "In the original stages of the show, it felt a lot like a story, one you would see on Disney Channel. But I wanted to say something that, when people watch the show, they recognize it; the struggle of having that constant battle within your head is something that everyone knows." 
With so many people currently facing mental health issues, Slingluff thinks taking on such a weighty topic was one of the hardest aspects of the entire writing process. 
"A big thing, storywise, was making sure that I did [the topic] justice," Slingluff said. "I am not going to be able to say what everyone with mental health issues feels like."
Slingluff has faced challenges of writing and producing an original musical head on and has reveled in every minute of the experience. 
"Each and every moment has been crazy and amazing, and sometimes I have to take moments just to truly take it in," Slingluff said. 
Slingluff is drawing from her experience with musicals at ARHS. She has been part of drama productions all four years of high school. 
"I have spent so much time in the Fine and Performing Arts department that it's become a home to me," Slingluff said. "[The advisers] would have been ready to advise or to help in any way, but I just think they believe in us so much." 
Fine and Performing Arts teacher Maura Morrison has worked closely with Slingluff for the past four years and has come to admire her work ethic and team spirit.
"
But I wanted to say something that, when people watch the show, they recognize it; the struggle of having that constant battle within your head is something that everyone knows."
— Miranda Slingluff
"She never puts herself above anyone in any cast or any play," Morrison said. "She is someone who absolutely sees herself as part of a team."
Slingluff's experiences in previous school productions, including Mamma Mia and Chicago, have informed a lot of the specific choices she has taken as a writer-director. Her hard work and creativity throughout this process have been incredibly inspiring to Morrison.
"I have learned that age is not a defining quality of being an artist," Morrison said. "She is reinforcing what it means to be involved in theater – it's beautiful and it's challenging, but the beauty is in the challenge."
It has definitely been challenging for her, but Slingluff appreciates the intense amount of help and support she has received from other people involved with the production.
"The amount of support I have gotten is insane," Slingluff said. 
According to Slingluff, she wasn't expecting many people to care, but she now has a cast of dedicated actors, musicians, crew members and advisers by her side. When she first started composing the music at the end of her freshman year, Slingluff never imagined it growing into what it is today. According to Slingluff, this process has helped her grow not only as a writer and director, but as a person as well. 
"This story is one that I need to hear," Slingluff said. "There is so much you can walk away with, but to me, it's maybe just saying that your happiness will lead to a better life for you."
The play is set to be performed on Jun. 18 and 19 at 7:30 p.m. Slingluff hopes that it will be performed live and streamed virtually on the performance nights. She looks forward to other people having the opportunity to see and experience the story that the entire cast and crew put a lot of hard work into.