Mascot Study Group recommends removing Tomahawk mascot
The Study Group for Mascot Review presented their recommendation to retire the Tomahawk mascot to the school committee on Thursday, April 15.
The school committee will vote on the final decision regarding the mascot on Wednesday, April 28 based on the Study Group's recommendation. The Study Group consists of 16 community stakeholders who have been meeting since November 2020 to develop their recommendation by reviewing the history behind the mascot, researching the impact of mascots on Indigenous people and listening to staff and student opinions.
"I have come to really deeply appreciate that schools are the community's strongest source of tradition, and the maintenance and establishment of traditions is one of the key roles that schools can play," Principal Sean Bevan said in the Zoom meeting. "Right now, I think we're at a moment in our school's history where that's incompatible with the real mission of schools, which is to teach and to develop students who are critical thinkers and understand the world around them, and ideally to develop students who are kind." 
The Study Group found that having Native American mascots overall negatively impacts both Native American and non-Native American students. 
"While the population of Native American students we have at Algonquin and at our district may be low, there are quite a few minority students, and the data showed that there are quite a few harmful effects for them as well," sophomore Study Group member Ben Schanzer said in the meeting. "It just shows that there is very real harm that this mascot causes."
In their research, the Study Group also sought Indigenous perspectives, talking to Maulian Dana, an Indigineous woman who gave a TedTalk regarding mascots, and listening to others.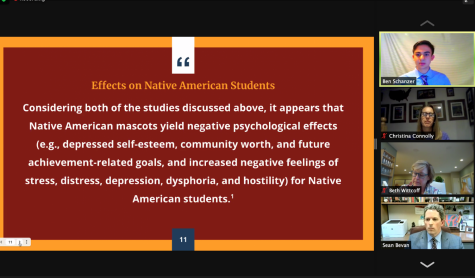 "The point that we can gather from these perspectives is quite clear: Native experts are telling us that using their cultural symbols as mascots is harmful," senior Study Group member Sarah Saeed said in the meeting. "As Ms. Dana said in her TedTalk, if someone is telling us that they are hurting, we do not have the right to tell them otherwise… Algonquin never had the intent of hurting Natives and non-Natives alike with its use of Tomahawk imagery across gym floors, apparel and the appropriation embedded into our school culture. However, the impact of these actions results in tangible harm to Native self-worth and the non-Native understanding of Native culture." 
The Study Group planned out a timeline with a phased approach to retiring the mascot over the course of five to seven years. Some felt that there should be a faster response, including audience member Brittney Walley, who is a Nipmuc tribal anti-mascot representative and a member of the statewide Mascot Coalition.
"You don't need to reinvent the wheel; in a few different places, 13 schools have changed their mascots within the last year, so you definitely aren't in a silo, although it seems as though you're acting as if you are in one," Walley said in the meeting.
Walley also pointed out that the school is in the middle of Nipmuc territory—something that the Study Group did not mention.
"You're the Algonquin Regional High School, right?" Walley said in the meeting. "I haven't heard the name of a single Algonquin tribe yet, except for one in Maine… We're still alive and we still exist and we have a letter from our government that says to remove mascots."