Coffee Shop Quest: The Lost Shoe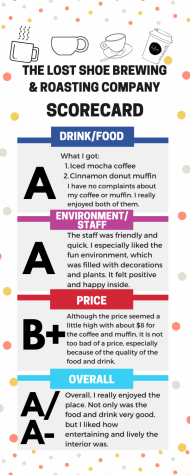 Over February break on Feb. 17, I went to the Lost Shoe Brewing and Roasting Company in Marlborough, MA. It is located near Marlborough Main Street on a quiet and quaint street. The outside was simple, yet inviting with some outdoor seating with fireplaces. I especially liked the rustic look and lights that hung over the outdoor seating. The relatively minimal outdoor decorations contrasted greatly with the lively indoors of the restaurant.
When I entered, I was pleasantly surprised with how unique and warm the inside felt. The environment was upbeat and welcoming, and the interior was filled with decorations and plants, while still carrying over the rustic theme from the outside. I loved the type of fun and interesting feel the inside brought. It was enjoyable to sit in there and eat breakfast, and it overall just gave off a happy vibe. 
We were immediately able to order our food and drinks. I ordered an iced mocha coffee and a cinnamon donut muffin, and my mom also ordered an iced mocha coffee and a lemon poppyseed muffin. The total came out to $16, which seemed a bit pricey, but not too expensive compared to some other coffee shops I have reviewed. The coffees were not huge either, but they were well worth the money in my opinion.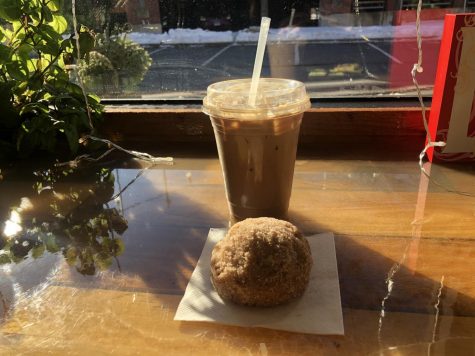 The service was great. It was pretty empty when we arrived there, and they took our orders right away. Both the drinks and food came within minutes of ordering, and the staff was friendly. We were able to sit inside and enjoy our food and drink at a table near the windows. All of the tables were spaced six feet apart to follow coronavirus guidelines. I did like that we were able to stay inside the restaurant.
I really enjoyed my coffee. I felt it had a great balance between the coffee flavor and mocha flavor, and overall it tasted very smooth and rich. My cinnamon donut muffin was also tasty. It had more of a cake-like consistency which I personally like, and was covered with cinnamon and sugar. My mom got the lemon poppy seed muffin which was also delicious. For a place more focused on drinks, their bakery items did not disappoint.
Overall, the Lost Shoe definitely ranks high. Between the upbeat environment, delicious food and drink and great service, I would love to and plan to return here and maybe try out some of their other bakery items.