Adjusting Canvas notifications can reduce stress
Aaliyah and Karthik,
Thank you for your recent Harbinger article "Teachers, we appreciate all you've done (but we have a few requests)." It was an honest and revealing look at the student perspective during this challenging time. I truly feel for all students, but especially for Seniors like yourselves who have been so affected by all of these changes. I admire the resilience and effort of the entire school community, as we have all had to adapt significantly to the world of COVID-19.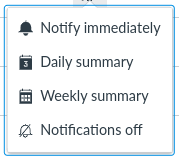 While I cannot address all of the suggestions you mentioned for your teachers, I can speak to Aaliyah's point about the "Sunday Scaries" being exacerbated by a flood of Canvas email notifications. I feel like it is a good time to remind students that notification settings can be personalized based on individual preferences. When you log into Canvas on a computer, you can click on Account and then Notifications. Here you will find nearly thirty different Course Activities for which you may choose the frequency of your notifications. For each of these, you will be able to set your preferences for both email and push notifications. Emails can come immediately, as part of a daily or weekly summary, or not at all. Push notifications only have the option of immediate or none at all.  
I suggest having as few "immediate" notifications as possible. Generally speaking, the only activities for which you may want instant alerts are Announcement and Global Announcement. Other activities, like Grading, Submission Comment, and Conversation Message would be better suited for daily or weekly summaries, in my opinion. Many of the activities, like Blueprint Sync and Recording Ready are not applicable to students at all, and you are unlikely to ever receive a notification about them. You can always go back to this page and adjust your notification preferences if you feel you are getting too many or too few emails or push notifications. Each student is different, and it is important for everyone to find the right balance of information that helps keep track of what is happening in the course without adding extra stress.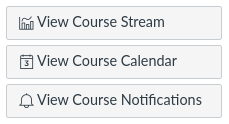 It is also possible to customize your choices on a course-by-course basis. If you go to a course's home page and click "View Course Notifications," you can adjust your preferences that will override the settings you have already chosen at the account level. You can even choose to opt out of notifications for the course completely. This allows you to really customize your experience based on your needs for different classes.
This is already a terribly stressful time for everyone. By adjusting your notification settings in Canvas, you can help yourself manage some of that extra stress caused by a constantly updating inbox.  Guardians who have Observer accounts in Canvas can also set their notifications in exactly the same way. Hopefully these tips will help many students find the right balance and have a less stressful experience, especially on Sunday afternoons, as teachers are prepping for the upcoming week.
Thank you,
Brian Calnan
Instructional Technology Specialist