REVIEW: Playboi Carti's 'Whole Lotta Red' displays versatility, merges punk with modern hip-hop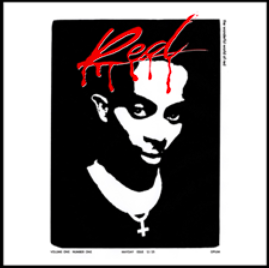 Playboi Carti's sophomore studio album, "Whole Lotta Red," a myth amongst fans during two years of teasing and building up insane levels of hype, has finally been released. "Whole Lotta Red" is a departure from Carti's previous style, now consisting of a much more psyched out and alternative approach. His new style is either a hit or miss for fans: with some moments of brilliance and some moments that seem stale.
Since the release of his first studio album in 2018, "Die Lit," Carti has been riding off of its success. "Die Lit's" production was incredibly unique and was a large factor in its success. For example, "Die Lit" was almost exclusively produced by frequent collaborator, Pierre Bourne who has much less of a presence on "Whole Lotta Red" than most fans had hoped. The reason Carti has waited quiet a few years since "Die Lit's" release, is largely because of issues with his songs getting leaked, resulting in "Whole Lotta Red" being continuously delayed and more hype building with time. 
"Whole Lotta Red" has many punk-inspired, high-energy bangers throughout the entire album. The first track of the album, "Rockstar Made," sets the album's tone with its aggressive and raspy delivery as well as a punk flair. "Stop Breathing" is Carti's pinnacle of aggressive and in-your-face music, even better than previous entries like "R.I.P." and "R.I.P. Fredo." 
"Whole Lotta Red" sees Carti pushing his boundaries both vocally and stylistically. "Teen X (feat. Future)" contains Carti's signature and divisive baby voice which is elevated to a whole new level. "Teen X" has Carti saying nonsense about ecstasy and codeine for most of the song, but it is intoxicating in its simplicity and avant-garde nature. Random mumbling and bizarre noises have never sounded so great.
For "Whole Lotta Red," Carti adopted a vampire aesthetic for the rollout seen through many of his Instagram posts and in a few titles and songs like "Go2DaMoon (feat. Kanye West)" which features West's best verse since his "Kids See Ghosts" album in 2018. The song samples violin chords that sound right out of an '80s vampire horror movie. "Vamp Anthem" features high synthesizer chords mixed with a trap beat, which is easily one of the most polarizing beats on the album but contributes to the vampire theme.  
A majority of the album explores new sounds, but Carti returns to his roots for a few of the songs. "Over" seems like a spiritual successor to "Long Time" from "Die Lit" and is probably my favorite song from the album. "Sky" and "New N3on" seem like they would've fit into "Die Lit" perfectly. The psychedelic and spacey instrumentals of the three are amongst the best of the album.
This isn't to say everything on "Whole Lotta Red" is perfect because the album is far from it. The album is plagued with poor mixing which is especially apparent on "M3tamorphosis (feat. Kid Cudi)" where at points the beat is drowned out by Cudi's hums. "Place" has either an incredibly careless mistake or an outlandish artistic vision: after the first three seconds of the song, there is an out of place five-second pause of silence. The bloated 24 song track list seems like Carti is prioritizing quantity over quality. 
Personally, the album's worst aspect is the nine songs that have a runtime of one and a half to two minutes. Just as the listener feels like the song is picking up, it simply ends which makes the songs seem rushed and not fully thought through. "Go2DaMoon (feat. Kanye West)" had the highest potential on the album with an incredibly rare and amazing Kanye West feature. The preview of the song was received well by fans, but it is held back by its short two-minute runtime as well as Carti's lack of presence until the last thirty seconds and even then he gets overshadowed by the featured artist on his own song. 
Unfortunately, "Whole Lotta Red" had a nearly insatiable hype to live up to and it fell short, but the envelope-pushing ideas it presents will almost certainly shape mainstream hip hop into the future.