Tomahawk debate resurfaces: Honorable symbol or cultural appropriation?

Loading ...
With the re-emergence of the mascot debate, clashing opinions have sparked a heated conversation throughout the school. This discussion, however, is by no means new. The past few decades saw the rise of countless petitions to remove the mascot, declaring the Tomahawk a clear example of cultural appropriation. Opponents of this claim fought to protect the Tomahawk, considering it an honorable celebration of native culture. 
So which one is it? A disgraceful act of cultural appropriation against a silenced population, or an honorable celebration of their profound culture? 
At a first glance, the Tomahawk is a harmless celebration of Native culture. If anything, it honors their history, admires their traditions, and carries their legacy. The data, however, tells a different story. Over the past decades, numerous studies have proven the harmful effects of native mascots on the native populations as well as the residents of local communities. The Fryberg et al. study, as mentioned by The Taylor & Francis Group, measured the effect of native mascots on the mental and psychological health of native college students. Over several iterations and experimental methods, the study concluded that on average, Native Americans experience a wide range of negative psychological effects, from lack of self-esteem to depression, as a result of racist and controversial imagery conveyed by the Indian Mascots. 
But the Tomahawk by no means qualifies as a racist mascot. It is native, but it is not a racist caricature designed to taint our perspective of native peoples. It is just a tool, right? Interestingly, a study reviewed by The Taylor & Francis Group, LaRocque et al., discovered that Native students experienced increased negative emotions toward examples of native imagery that were found to be neutral by the white subjects throughout the study.
Moreover, "neutral" representations of native culture only appear neutral to mass audiences when the context of these elements is disregarded. Without context, a headdress is a seemingly acceptable article of clothing. To a Native audience, however, the fact that the headdress is appropriated, disregarding the cultural importance and significance of the headdress, gives birth to a vast array of negative emotions. Similarly with the tomahawk, it's not just a tool; it holds cultural significance within its proper context. 
So what about the story stating an Algonquin chief permitted us to use the name for our school? Well, considering the Algonquin tribe is located in the regions of Quebec and Ontario Canada, it doesn't make sense to have contacted that specific tribe to use their name. In fact, there seems to be no record of the Algonquin tribe ever consenting to us using their name.
The Native tribe that used to occupy the area of Algonquin Regional High School was the Nipmuc tribe who spoke Loup A, a Southern New England Algonquian language.  If we were following the logic that our name is honoring Natives, shouldn't we have the respect to correctly spell their language? 
Furthermore, upon closer inspection, the Tomahawk that was supposedly gifted by a local tribe had the word Navajo inscribed on the handle. Why would the local tribe give the school a tomahawk with the name of a tribe located in Arizona, New Mexico and Utah? And interestingly enough, when you type the Navajo tomahawk into your search bar, you too can buy an identical tomahawk off of the Mission Del Rey Southwest online shop.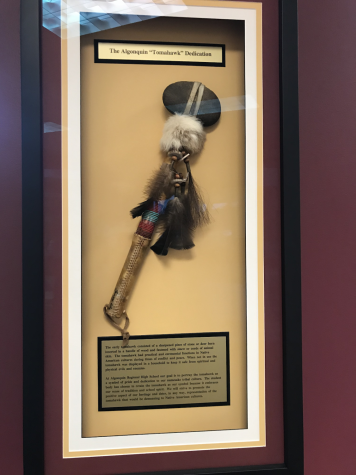 Circling back to the Nipmuc tribe that used to occupy the area of our school, according to Milford Daily News, the Nipmuc Tribal Council Chairman Kenneth Gould Sr. has expressed the tribe's opposition to the use of Native mascots when responding to Killingly High School's mascot the Redmen in a statement last July.
"Native American mascots, often portrayed as caricatures or cartoons, are demeaning to Native Americans and it is our opinion that they should not be used," said Gould. "We do not feel it is appropriate for our culture to be appropriated this way, or that we should be represented in this way." 
Even though the Tomahawk mascot isn't a cartoon of an American Indian, it still holds cultural significance to Natives and as such shouldn't be appropriated
So what is it then? Should we remove the mascot and forget about these people? Let me ask you, then: what good is it for these people if we "honor" and remember their past, while remaining completely  ignorant of and refusing to care for their present situation. Even with our native mascot, many students are completely unaware that federally recognized tribes exist in the State of Massachusetts; that countless natives scattered among hundreds of reservations throughout the country are suffering poverty, malnutrition and alcoholism disorders; that the native suicide rate is the highest of any other race in the United States. 
As times change, so should we. If we are to keep our mascot, then at the very least, there needs to be education reforms. Starting freshman year during orientation or history classes, we should be taught the cultural significance of the Tomahawk and if we want to "carry on their legacy" we need to talk about modern day Natives and the oppression they face. 
However, we have heard from science and we have heard from Natives, it is time for Algonquin to follow the example of the other institutions who have removed their Native mascots and change ours.

Loading ...