A Tasty Journey: Chicken tortilla soup
As we move into the cold weather months, my love for soup is returning. Working at a Mexican restaurant, I've had chicken tortilla soup almost every single shift, and it's quickly become one of my favorite foods. Chef Oscar refused to give me his recipe, so I had to figure it out for myself! This soup is broth based and has all of the flavors of Mexico. Tomato, cilantro, and lime tickle your taste buds in each glorious spoonful. 
Recipe: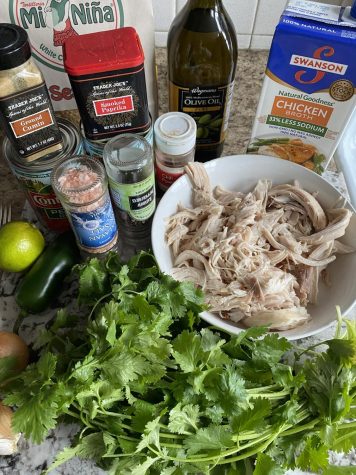 1 medium yellow onion
1 jalapeño pepper, about 5 inches long
2 cups roasted, shredded chicken
OR
1 can black beans, drained
4 cloves garlic, minced
1 32oz box of chicken or veggie broth
2 14oz cans of tomatoes, diced
2 tablespoons cumin
2 tablespoons chili powder
1 teaspoon cayenne pepper
1 tablespoon smoked paprika
Juice of ½ a lime
1 cup cilantro, freshly chopped
Salt and pepper to taste
1. I began this recipe by dicing up my onion and jalapeño pepper. I usually light a candle while I cut up the onion to reduce the burning sensation and tears. I then heated up my oil in a large pot over medium heat, threw in the veggies, and let them soften for about five minutes. If you like heat, include the seeds from the jalapeño, otherwise, discard them. 
2. While things were cooking, I started to shred my chicken. I used store-bought rotisserie chicken, but if you are vegetarian or vegan, replace the chicken with a can of black beans. Drain and rinse them to prepare for the soup. 
3. After the veggies soften, add in the minced garlic. I used elephant garlic, so I only included one clove, but for regular sized garlic four to five should work well.
4. Next, we're going to add some liquid to the party. Add in the chicken broth along with both the juice and fruit from the tomatoes. 
5. Stir the soup around for a few minutes before adding in the chicken or black beans (or both), all of the spices, and the lime juice.
6. Cover and bring to a boil, uncover, and allow the soup to simmer for 5 minutes. Chop and add in fresh cilantro and simmer for one more minute.
Serve immediately with avocado chunks, sour cream, and, of course, tortilla strips! I crushed up my favorite tortilla chips and mixed them in. This soup can also be frozen for about a month. To defrost, put the soup in a pot with about 3 tablespoons of water and the flame on low. Cover and stir until hot!