Girls' cross country places second at pod 8 championship meet to end season
After an unusual season, the girls' cross country team placed second at the pod 8 championship meet at Algonquin on Wednesday, Nov. 11. The team was led by an individual first-place finish from sophomore Ada Gebauer.
The team finished the regular season 2-2. The pod included all five schools in the league: Algonquin, Leominster, Shrewsbury, Wachusett and Westborough.
"Everyone was super excited before too, even if we were nervous, because we've had duals and we didn't even think we'd have any big meets," senior captain Anna Long said. "So, it was nice just to have a championship meet or [something] close to it."
The meet consisted of the top eight runners from four out of the five schools in the league. Leominster did not compete.
Both Wachusett and Shrewsbury beat Algonquin in the regular season, but to many people's surprise, Shrewsbury came in first with an overall score of 45 points.
"We knew we could compete with them," head coach Patrick Galvin said. "We thought Wachusett was the top competition, and we ran well with them, but Shrewsbury snuck right in and got the W today by just a few points."
Algonquin finished second with an overall score of 48 points, Wachusett came in third with 55 points and Westborough in fourth with 65 points. However, Gebauer's time of 19:45.2 allowed her to comfortably cross the finish line first.
"A lot of the girls ran really well today," Galvin said. "They competed. Ada Gebauer got the win. In our dual meet against Wachusett she was second place. She really wanted to come out and win, so she was happy with that."
Losing to Wachusett earlier in the season pushed Gebauer, however, overcoming struggles she had last year with iron deficiency motivated her even more.
"This is kind of my first year being able to feel good and feel good racing, so it was exciting to do that," Gebauer said. "That was also something motivating me because I felt lucky to be running because last year I had iron deficiency issues and running really wasn't a possibility for me, so I felt lucky to be able to run in the first place."
Junior Olivia Kardos (21:26.2) and freshman Austeja Bazikis (21:48.0) also made significant contributions to the race coming in sixth and eighth, respectively.
"[Bazikis was] a freshman in the top five, so shout out to her for competing and running really well today," Galvin said.
According to Long and Gebauer, many of the girls did not run their best race due to the humidity on the day of the race, but in the end they were proud of their efforts.
"I really think that our team did give our all, like obviously not PR's or anything because of the weather, but nobody really PRed on any team, so I think we gave it the best shot we could and we only got second by three points," Gebaeur said.
For seniors it was the last meet of their high school cross country career.
"I haven't processed [that it was the last meet], and I still have track [season] ahead so that's nice to think about, but I was like literally running and I was like 'Woah, this is so weird! This is my last time with this team,'" Long said.
This season posed various challenges for the team, but they were grateful to have a season.
"Every day, every week that we could come out and practice was a gift, so we were just hoping we could continue to run together," Galvin said. "Every meet was just a bonus. So, we're happy to have run and it's a bummer that we got second place today, but still happy we were able to have the meet."
About the Contributors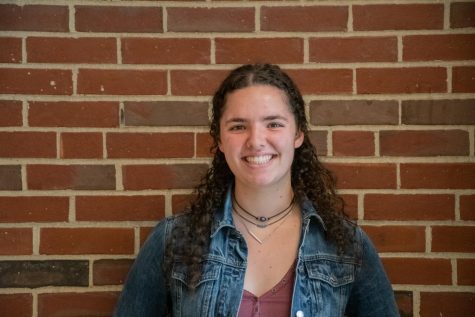 Laura Anderson, Managing Editor
After being reluctantly thrown into journalism class her sophomore year, Laura knew after the first day she was going to love writing for the Harbinger....