Algonquin's Closet: Face mask fashion is the newest fad
How would you have reacted nine months ago if someone told you that you must wear a mask whenever you go out to protect yourself from a potentially deadly virus?
I, for one, would have never believed it. But, here we are, October 2020, with mask requirements pretty much everywhere we go, restrictions on who you can hang out with and limits on the number of days we go to school in person.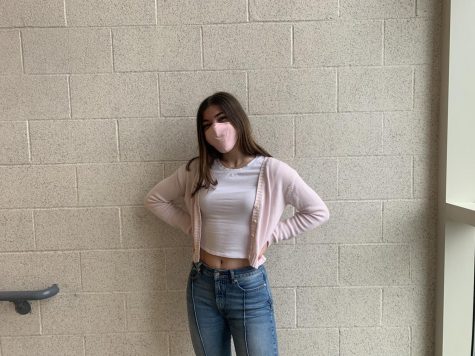 Although it can sometimes be a pain to wear a mask, it can protect you from contracting COVID-19. If we have to wear them, why not have some fun with it and think about masks as yet another way to accessorize. 
There are plenty of mask options available if you are looking to add on to your outfits. You can choose the standard surgical mask, cloth mask, filtered masks or even a bandana (if you're not in school), just to name a few.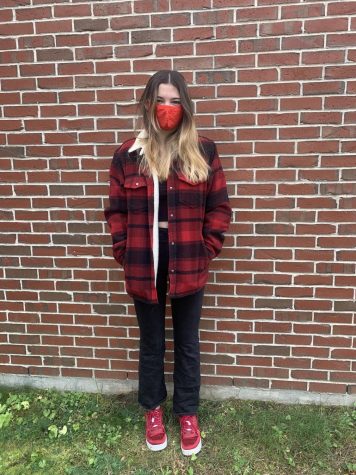 Cloth masks are my personal favorite to pair with my outfits. I purchased a few different colored cloth masks and switch them day-to-day depending on what colors I am wearing. If I am wearing red shoes, black pants and a red top, I am most likely going to wear my red mask. Although it may seem like the smallest thing, it can really add to your look and catch everyone's eye.
While I typically tend to wear a solid color mask, others are using masks as a possibility to explore patterns. In the halls of Algonquin, I've seen florals, camo and animal prints. I have even seen masks that have political statements or paint a smile, or frown, on someone's face.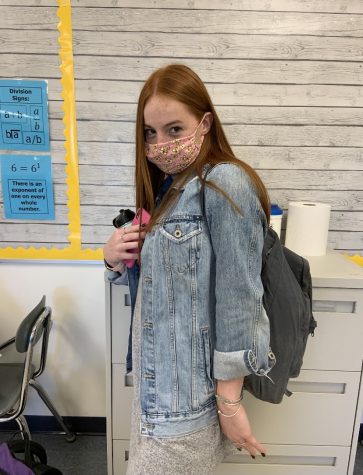 If you want to take your mask game just a step further, many people have been taking the time to make their own masks. This way, you can pick out your own fabric and coordinate it with articles of clothing you own. If you are cropping a shirt, in order to make it shorter, and are left with extra fabric, use that to make a mask. For one, you aren't throwing that fabric away, and two, you now have a mask that matches perfectly with your shirt.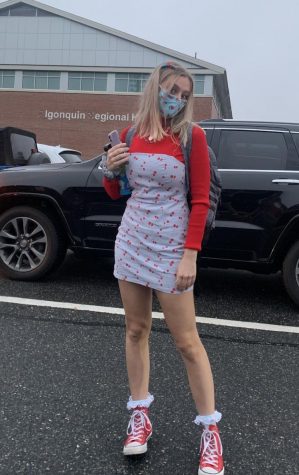 If you couldn't already tell, I love matching. With that being said, sometimes you don't always have the time or effort to coordinate a cute outfit with your mask. I feel like the best go-to mask is a black or white cloth mask. Black and white typically don't clash with anything and are great for whenever you are in a rush and need to grab a random mask quickly.
One of my favorite parts about school is looking at outfits in the hallway/passing time. Now, I can not only look at outfits but masks. Many students not only match their masks with their outfits, but also use masks to express themselves. 
Leave a Comment
Donate to THE ALGONQUIN HARBINGER
A donation of $40 or more includes a subscription to the 2022-23 print issues of The Harbinger. We will mail a copy of our fall, winter, spring and graduation issues to the recipient of your choice. Your donation supports the student journalists of Algonquin Regional High School and allows our extracurricular publication to purchase equipment and cover our annual website hosting costs.
About the Contributor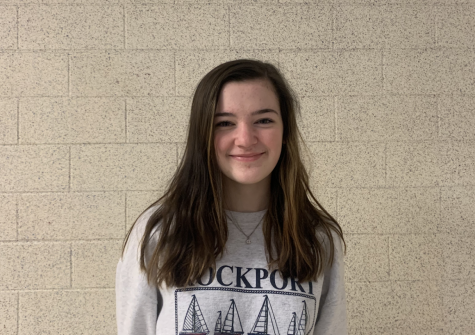 Jessie Lambert, Managing Editor
Jessie became interested in the Harbinger her sophomore year after taking a Journalism class and seeing how much her sister enjoyed it. Due to her love...