A Tasty Journey: Pumpkin chocolate chip cookies
Pumpkin Chocolate Chip Cookies: I know. My mouth is also watering.
Ahhh, fall. The best season of them all, and that is not an opinion, it is fact. The air becomes crisp and the leaves change color; it's such a magical time especially here in New England. As we settle into PSL (pumpkin spice latte) season, I thought I'd share one of my favorite treats: pumpkin chocolate chip cookies with a browned butter. 
I first made these cookies about a year ago, and they get better each time I bake them. I've tried various recipes and combined them to create the best one for my taste buds. These cookies are crispy around the edges, soft on the inside and there is gooey chocolate in every bite. 
I promise they will be the perfect addition to any socially distant occasion you attend this fall! I would like to point out that sitting on the couch watching a movie under a fuzzy blanket does indeed count as an "occasion.".
Recipe: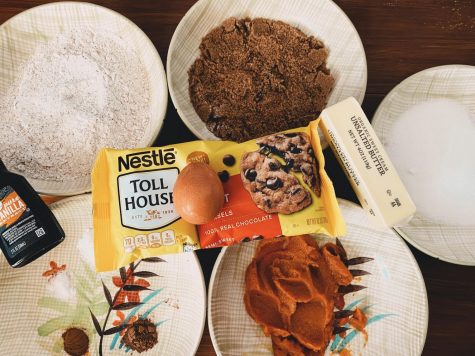 ½ c unsalted Butter, softened or browned
½ c white granulated sugar
½ c light brown sugar, packed
1 large egg
½ tsp vanilla extract
½ c pumpkin purée
1 ½ c whole wheat or all purpose flour
1 tsp baking soda
¼ tsp salt
½ tsp freshly ground cinnamon 
½ tsp pumpkin pie spice
As many chocolate chips that make you feel whole and happy; maybe throw in some cinnamon chips, too.
(Based off of Jo Cooks' recipe, but tweaked to fit my fancy)
Important Tips Before You Begin:
I like to make my cookies huge, taking after the Levain Bakery style. However, this does yield a longer baking time, so be mindful of that. I've found that 350 degrees Fahrenheit is the perfect temperature for the texture I love but feel free to adjust. Be sure to pre-heat your oven while you mix up your cookies.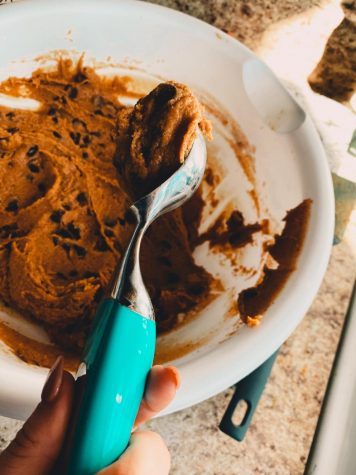 When it comes to the browned butter, people tend to shy away but, browning butter is not hard! With a few tips, you will have it down in an instant. I usually cut the butter up into little cubes, just so it melts faster. I heat my pan to medium-low heat. I have a gas range so if you're using electric I would probably stick to low heat. Let the butter heat for about 15 minutes, stirring constantly. Once the butter begins to bubble, keep it on the heat and do not freak out! It will make noise! After the bubbles die down and the butter starts to froth, keep an eye on the color. Once it begins to turn amber and smell nutty, remove from the heat and let it cool for about 20 minutes. I transferred mine into a mug and stuck it in the freezer to cut down on the waiting time, because I'm slightly impatient. If you don't let the butter cool, it may cook the egg and scrambled egg cookies sound horrible.
When it comes to flour, all purpose is great and it's probably a staple in most pantries; however, I love to use whole wheat flour in cookie recipes. I find it creates a richer flavor and chewy texture, which is my ideal result. Whole wheat flour isn't anything crazy, it just doesn't go through the filtering process that bleached flour does, leaving the whole grains intact. 
Another tip is to leave your egg out for about an hour before you begin baking. A room temperature egg is ideal for baking, so keep that in mind. Will a cool egg from the fridge ruin your cookies? No. But, for best results, just leave the egg on the counter. 
Freshly ground cinnamon is such a great flavor to include, but the bottled one from the pantry works great too.
How To:
1. Begin by mixing the browned butter and the two sugars together with a whisk. A stand or hand mixer is great too, but I prefer to do it by hand, I get more satisfaction out of it. Maybe taste test along the way… Once these are creamed, toss in the egg (NO SHELLS) and the vanilla. Then mix in the pumpkin before moving over to dry ingredients.
2. In a separate bowl, combine the flour and the other dry ingredients. Whisk these together to create a uniform dry bowl. Then slowly fold the dry ingredients into the wet, using a rubber spatula and making sure everything is properly mixed. 
3. Now,fold in about half the bag of chocolate chips. (Or stir in as many as your heart desires.) Stop when the bag speaks to you.
4. Next, throw those bad boys on a greased, or parchment lined baking sheet and bake them for about 10-15 minutes at 350 degrees Fahrenheit. Baking time will vary depending on size. Cookies will be golden brown on the edges and small bubbles will form in the center when they're finished baking.
Enjoy the fall aroma and gooey chocolate centers once they come out of the oven and are ready to eat!