Bevan looks forward to role as new principal despite COVID-19 challenges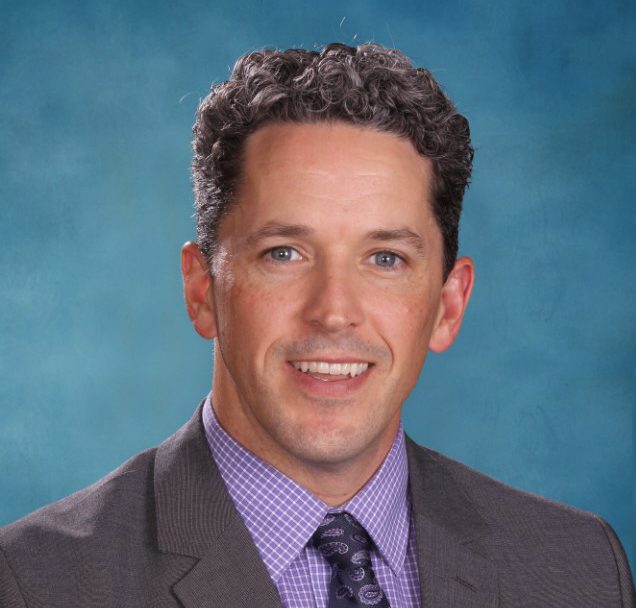 Former Algonquin English teacher Sean Bevan is returning as Algonquin principal for the 2020-2021 school year after serving as principal at Westwood High School. He hopes the experience he gained will help him overcome the unique challenges in the coming school year to build strong connections within the Algonquin community.
Bevan taught English at Algonquin for seven years before working as assistant principal and then principal at Westwood for 11 years. During his time at ARHS he advised The Harbinger and helped coach baseball.
"My work in Algonquin allowed me to get a good foundation of what quality education looks like and how to support all kinds of learners as well as work with a unified and cohesive staff," Bevan said in a phone interview. "When I became principal in Westwood, I learned how to be a leader. Returning to Algonquin, I hope I can combine what I know about the Algonquin community of learners and teachers and bring along the leadership experience I gained at Westwood."
When Bevan returned back to the high school setting as a teacher, he remembered what made school so enjoyable for him when he was a student.
"When I got into my first classroom as a teacher it felt natural and it was as enjoyable as I recalled," Bevan said. "It had a lot of challenges being a teacher and being responsible for a student's experience, making sure they had a strong grasp of the content. But I never lost sight that school could also be a fun and enjoyable place where students could just see all their friends and spend time developing new interests and get to learn new things about different parts of the world."
Bevan has kept in touch with ARHS colleagues over the years, bringing his daughters to Algonquin drama productions. Spending time with his family is important to Bevan, so he liked the possibility of working closer to his family. 
"I have always enjoyed keeping in touch with my Algonquin colleagues, and I recognize the things I enjoyed about Algonquin when I was there remain the same," Bevan said. "The idea of returning not as a teacher but as a building leader is appealing to me. My commute to my current job is longer than Algonquin so working closer to home is appealing to me as well. That way I get to see my family more."
According to Superintendent Greg Martineau, although Bevan had a lasting impact on the Algonquin community as a teacher, that was not a major deciding factor in the decision for him to become the next principal.
"Although Mr. Bevan served as an English teacher, a baseball coach, and adviser to The Harbinger during his tenure at ARHS, it was his collective experience as an educator, building leader and his successes in all of his prior roles that affected the decision," Martineau said in an interview via email. "I will share that Mr. Bevan made a lasting positive impression at ARHS, as many students, families and educators commented on his great work as an ARHS educator. He's also leaving Westwood with an excellent reputation, and it was evident in my conversations that Westwood is sad to see him go."
One reason Bevan chose to return to Algonquin was because of its larger size, which he believes will provide him with a greater challenge that he is eager to take on. 
"I have really enjoyed my position in Westwood, but I also enjoyed my time in Northborough and Southborough," Bevan said. "It just presents some new and bigger challenges for me. My school where I work now has about 1000 students and Algonquin has about 1400-1500."
Bevan faces the challenge of transitioning to a new school in the wake of COVID-19.
"I think right now because we're looking to return to school in a hybrid version of remote learning that we're in now, my immediate goal will be to stabilize the community and make sure that we're communicating about our expectations of students' families very clearly," Bevan said. "[My goal] is to also support teachers to be ready to teach in an environment which will be similar to the current one, but … it could even be more challenging because there are some scenarios that schools are looking at and that the state educators are looking at that might require students being in school part time in person and in remote learning in other days."
Bevan looks forward to building new relationships and interacting with students and faculty, but with  COVID-19 precautions, he predicts that this will be more difficult than normal. 
"A lot of the things that really appeal to me about school are the things that we can't do now, so I don't know that the community and students in particular are going to be able to see me as being approachable, and I'm going to have to find new ways to do that," Bevan said. "The thing I like most and that I think I do best as a leader requires just being physically present in the building and around kids. That's not going to happen or is going to be happening in a new way, and I'm going to have to find a new way to share that I'm visible and approachable, even if it's a virtual assertion of that."
With these difficulties in mind, Bevan has gotten a head start on familiarizing himself with the school again by doing some homework. 
"I had Mrs. [Michelle] Capalbo, who is going to be my assistant, mail me the yearbook from last year," Bevan said. "So I've been studying a little bit to read up on who's at teaching positions that weren't there before and learning their names and also what clubs and activities exist and what kind of things are happening in the school that weren't there before."
Bevan thinks his experience as an administrator will greatly benefit his transition to Algonquin.
"I've been a principal for almost a decade and you learn a lot even from being principal for just one year never mind ten years," Bevan said. "So I do bring an amount of experience that I think will be very helpful because it's a very challenging job and I look forward to applying the things that I learned at Westwood into my new home in Algonquin. I couldn't be more excited to come back; it feels like I'm coming back to my home."