Senior starts nonprofit, sells homemade crafts for charity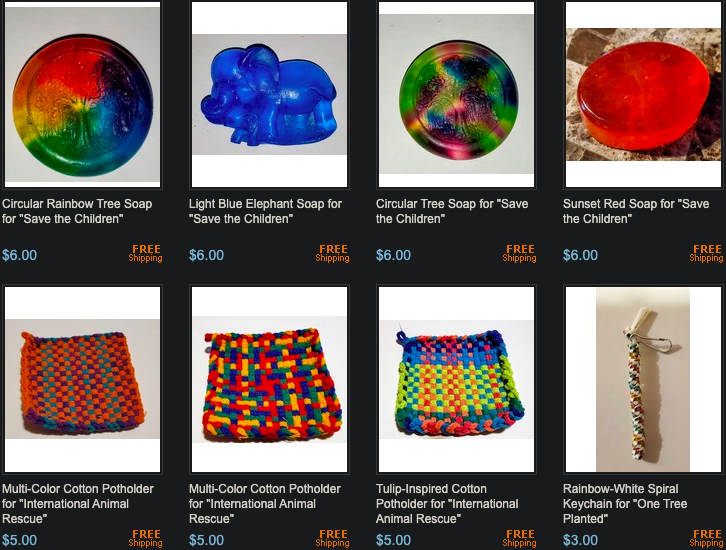 Senior Mary Youssef has been creating hand-made crafts since she was young and recently began using her hobby to do something more. She started Crafts for Charity, a nonprofit which sells hand-made crafts to raise money for three charities.
For her nonprofit, Youssef makes and sells three different crafts on the online marketplace Bonanza: keychains, potholders and soaps.
"I got into soaps because my mom was a very crafty person," Youssef said. "We've been taking a lot of crafting classes together."
Youssef and her mother, Stefanie Youssef, share a unique relationship that revolves around art.
"We took forging metal, glass blowing, clay pottery on the wheel, and I've always liked to draw, so she grew up around that," Youssef's mother, Stefanie Youssef, said.
Youssef puts 100 percent of the revenue from sales towards the three charities she's chosen. Her keychain revenue goes to One Tree Planted, the money made from selling potholders goes to International Animal Rescue and her soap revenue goes to Save the Children. 
Youssef has put a lot of thought into these charities and cares about each.
"I care about animal lives, especially ones in dire situations," Youssef said. "…I always wanted to figure out which charity has the most reach, and I found the International Animal Rescue. They've been very successful, and their money is actually going towards helping animals which are being illegally captured and traded."
According to Youssef, both the Save the Children and One Tree Planted charities have had a tremendous impact on a global scale.
"With Save the Children, they've been very successful with helping children globally, so they have a broad reach," Youssef said. "One Tree Planted has planted millions of trees. So even just a small amount can really help them and have a global impact."
In order to pay for her supplies and have all of her revenue go towards the charities, Youssef asks for supplies for Christmas.
"I just want to help as many people as I can," Youssef said. "That's what my career goal is, and I know I don't have the money to do that, so I just keep asking for the supplies I need for Christmas."
Throughout her life, Yousef's mother has been supportive of her daughter and is proud of the work she's done to help others.
"I will always support Mary no matter what career or what hobby she has in the future," Stefanie Youssef said. "I think that she'll definitely have a positive impact on people, as individuals, or on a larger scale. It's part of her nature, she's very caring and empathetic towards others."