Teachers reach out on social media, appreciated by students
During quarantine, some teachers have used various social media platforms to connect with their students outside of the school building.
Many teachers have reached out to their
students on apps such as Instagram to help with online learning and TikTok to let students know they are thinking of them while motivating them to get active and have fun.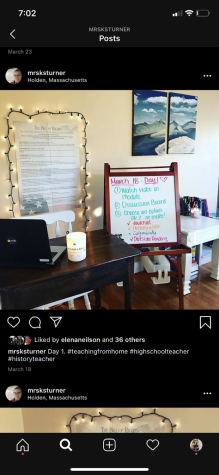 Social studies teacher Kristen Turner uses Instagram (@mrsksturner) to communicate lesson plans as well as to share her daily life in quarantine to relate to students.
"If students are anything like me they don't wake up in the morning and scroll through Canvas," Turner said via email. "It's important to find students where they are and make myself available to them there!"
According to junior Zack Fier, students enjoy looking at teachers' social media posts because it gives them a way to connect outside of school.
"I love looking at social media posts from teachers," Fier said via email. "For example, my English teacher [Alex Silva], posts quotes and other messages wishing us good health, and it really shows that teachers care about their students outside of school."
Silva's purpose in using his Instagram (@silva_arhs) is just as Fier explained. He wanted to provide a way to give his students some human connection and show them he is thinking of them.
"I missed my students and I wanted to connect with them in a way that's not connected to the curriculum," Silva said via Zoom.
Physical education teachers Andrew Kinney and Kristen Morcone use TikTok (@mr.kinney_arhs7 and @itsmemorc) and Instagram (@mr.kinney_arhs and @itsmemorc) to share funny dance videos with their students.
"Last Friday I posted a video of myself singing and dancing to the song 'Friday' (just like I do in the gym every Friday) and I couldn't believe how many kids responded to that," Morcone said via email. "It's the little things like hearing how it made a kid smile or laugh that make me happy."
While these teachers are doing everything they can to connect to their students, they miss the energy in a school classroom.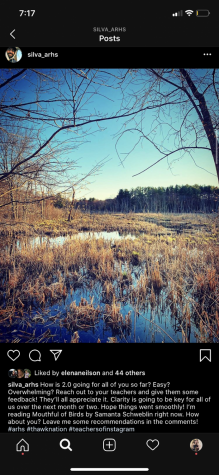 "My Zoom classes are so quiet compared to how everyone interacted in my classroom," math teacher Mary Rose Steele (@maryrosesteele on Instagram) said via email. "I miss the random polls, making fun of each other, the bromances, celebrating Pi Day, students taking notes on the floor… EVERYTHING!!!"
Junior Kathy Zhang feels the same way.
"I miss seeing all my friends in the hallways and catching up in classes," Zhang said via email.
While it's not the same as seeing each other in person, social media has provided a unique way for students and teachers to connect during the COVID-19 outbreak.
"My motto is 'work hard, play hard,'" Steele said via email. "On a school platform I'm usually focused on curriculum and working hard, but my social media lets me share a bit of my crazy life and family and how we like to have fun and play hard."