Coffee Shop Quest: Stop two, InHouse Coffee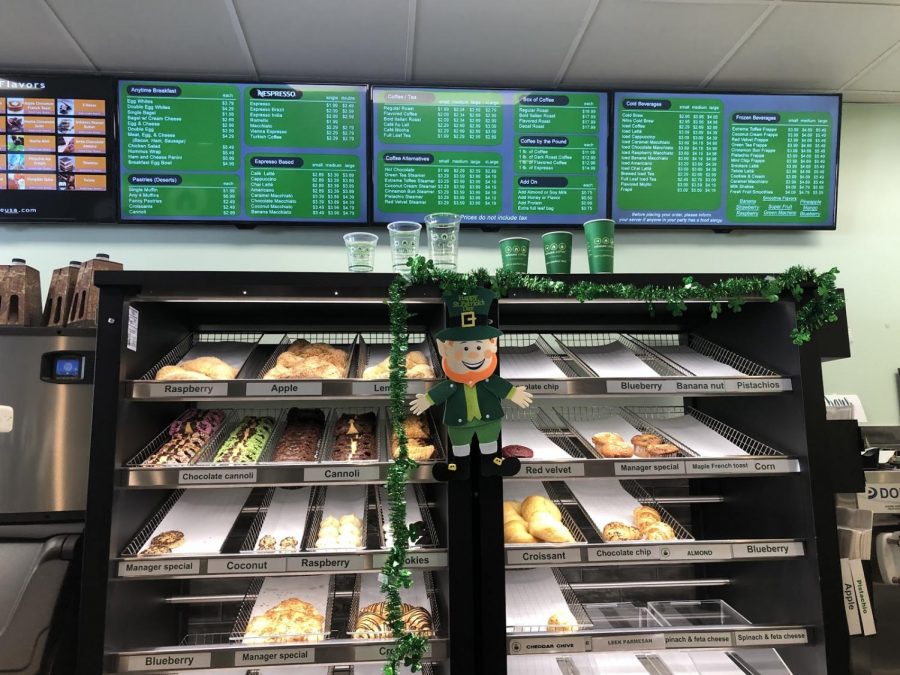 Straight after school on March 5, my mom and I arrived at InHouse Coffee (17 W Main St, Northborough, MA 01532). I have to say I was very eager to try it out, since I had seen it being built and designed over the course of a few months, and it looked very interesting. I have driven by it a few times, and I love the green building with the coffee beans on the exterior and their three large circular logos, featuring an arrow representing "in," house representing "house," and a coffee cup representing "coffee."
Upon entering, I immediately liked the interior. There were several modern touches, as well as a minimalistic vibe within the coffee shop, with many comfy seating options. As you walk in, there is a row of seating to the right, some additional seating to the left, as well as seating available outside. There is also a clear and understood path from the door to the counter. In addition, since it was around St. Patrick's Day, they had some decorations around, including shiny green garland and a leprechaun cutout.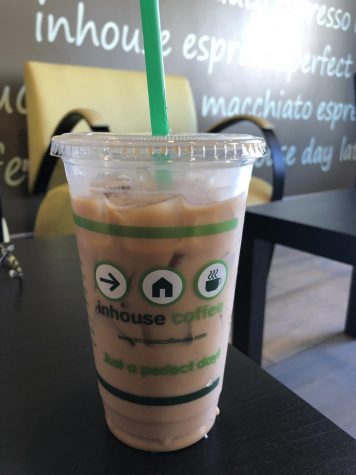 I looked at the menu for a little bit, deliberating what I wanted to order. They had so much on the menu for coffee types, as well as smoothies, pastries and "anytime" breakfast options. InHouse Coffee currently has 31 coffee flavors, ranging from banana nut muffin to cinnamon sticky bun to pistachio ice cream flavor. Their pastry set up reminded me of Dunkin Donuts' setup, as all of the pastries were behind the counter displayed in different racks. They all looked appetizing, even the ones I would not personally choose. They had a wide variety of cannolis, special cookies, like raspberry cookies, and croissants.
I ordered a medium iced mocha and a cinnamon twist. The total came to $7.25 which seemed pretty reasonable. It came out relatively fast, and the worker offered to warm up the cinnamon twist, which I happily agreed to. The worker was friendly and had a positive attitude.
I was so excited to try out the food and drink. After I sat down and took my first sip of coffee, I was not too pleased. To me, it tasted bitter and without a strong mocha flavor. As I drank more, the taste started to grow on me, but overall I wish there had been a more present mocha flavor. Although, I have to say the sizing was very generous, and the drink has a lot of coffee in it. It was too bad I didn't enjoy the coffee much. 
The cinnamon twist was different than I anticipated. I imagined it was going to be a warm, doughy, sugary treat, but it was not. Instead of being doughy, it was a flaky, but still warm and sugary treat which I thoroughly enjoyed. However by the end of eating it, it felt a little dry. 
Although Inhouse Coffee was not my favorite, I still enjoyed the experience and loved the atmosphere it brought. It was a quaint, quiet, but positive place with a clean and spacious environment. 
I'm not sure I would return to Inhouse Coffee, but the 31 different coffee flavors lure me in to try some of them out. So maybe I would make a reappearance, but definitely with a different order.