Burns' talent, passion secure spots on elite youth soccer, Division I teams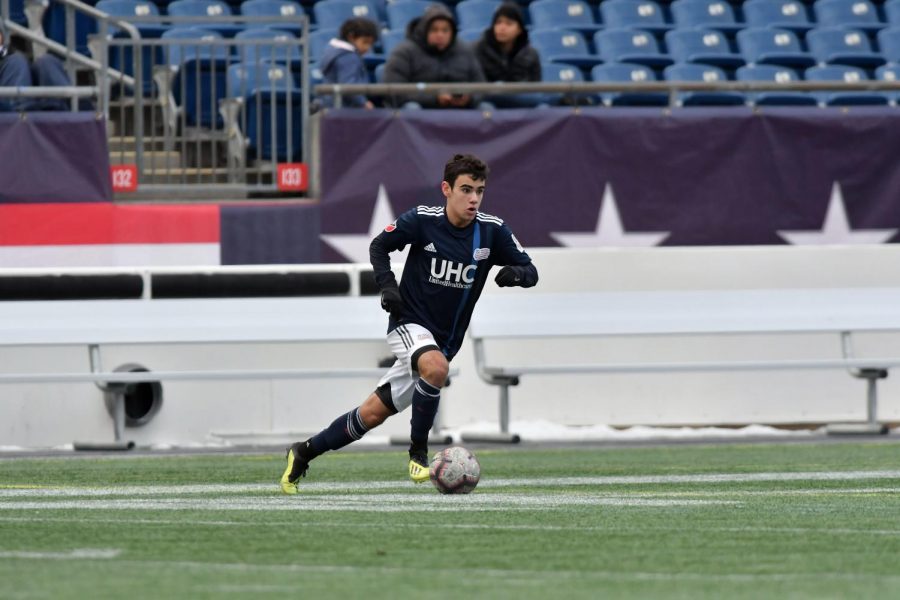 For as long as he can remember, senior Trevor Burns has had a passion for soccer which has led him to play for the New England Revolution Academy and for the Division I soccer National Champion team the Georgetown Hoyas starting this fall. 
Burns has a deep passion for the game and started playing for The New England Revolution Academy team when he was 14-years-old.The New England Rev Academy is one of the top academies in the country, and many of those who play for The Revs have the ability to eventually go pro.
"I love to play soccer and even though there have been tough times as a player, I am very fortunate to be able to go out every day and play the sport I've always loved," Burns, who plays midfielder, said. 
Because Burns plays for the Revs, he was unable to play for the ARHS team, but said that never really mattered to him.
"I never really thought about it because I had already been playing with the Revolution Academy prior to entering high school," Burns said.
English teacher and New England Revs Academy coach John Frederick values not only Burns's skill but also his humility. 
"I doubt people know how good he is," Frederick said. "I doubt most people in this building have any idea just how talented he is because he is one the most humble kids you can imagine. It's impressive to be as good as he is and to be as humble as he is." 
Frederick admires Burns's style of play and how he doesn't play for himself, but he plays for the team and wants to win.
"He's not concerned about stacking his stat sheet or scoring goals or getting assists," Frederick said. "He's concerned about who won the game in the end. I watch the kid, and I know I would have loved to play with him because I knew I could count on him to show up every day."
However, Burns's love for the game hasn't been the only thing that's been pushing him throughout the years.  Burns has always looked up to his dad who played at the pro level and played in three World Cups for Team U.S.A.
"He has always been there for me, and he has never put pressure on me to follow in his footsteps, which has helped me a lot throughout my career," Burns said. 
 Burns has worked hard to become the player he is and is exuberant about the next chapter at Georgetown.
"I'm excited that I will finally be able to play for a school team like this and to challenge myself at the next level," Burns said.