Sophomore lights up poi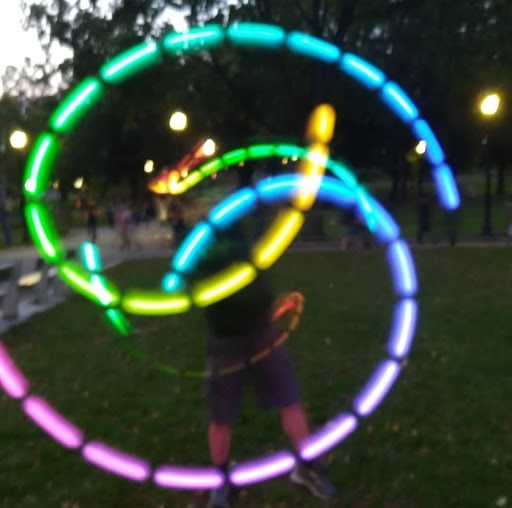 For four years, sophomore Stefan Linden has been spinning in a blur of colorful light by performing poi.
Poi is a type of dance in which weights are spun on strings. It can be done with the weights on fire or replaced with LEDs, which Linden uses. 
Linden was first introduced to the activity at camp CTY in Saratoga Springs, NY. There, multiple people taught him poi, and later he began learning from the internet. 
"We do it at my camp, and I started because I thought it looked cool," Linden said. 
But there is a potential risk to performing poi, as there is a possibility that the weights may hit the person spinning them.  
"[The weights] are so fast, it hurts if it hits you," Linden said.
It took Linden two days to learn his first trick, but advancement requires practice. In the fall, he practices daily after school, but usually, Linden practices once a week with his friend, sophomore Eric Yamaguchi. 
Yamaguchi learned poi alongside Linden at CTY and enjoys practicing together as they are able to work on tricks and help each other out. 
"He actually knows what he's doing, and I don't get hurt as much," Yamaguchi said.  "[Poi] looks cooler when you do it with two people, and it feels a lot better. You need someone who you are comfortable doing it with and is experienced." 
According to Yamaguchi, Linden is very dedicated to poi and perfecting his techniques. 
"Once he wants to learn something, his mind gets stuck onto learning it," Yamaguchi said.  "Nothing can really stop him unless he gets injured. He is really dedicated." 
One of Linden's strong skills is the style in which he performs. His passion for poi can be seen in the way he spins.
"His style is more flowy," Yamaguchi said. "I purposely break things up a lot, because my ideas stop in time, but [Linden] goes from one trick into another very effortlessly."
Linden does poi as a hobby but has performed at multiple school events such as the Variety Show, along with the talent show at his camp. Although it is a difficult activity, Linden advises those starting to learn poi stick with it.
"It hurts, but don't give up," Linden said.