World Language students given chance to qualify for State Seal of Biliteracy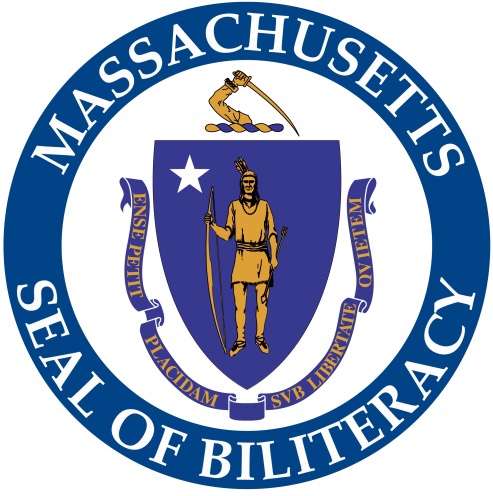 Students at Algonquin enrolled in a level four French, Spanish or level three Latin class will be assessed through the Avant STAndards-based Measurement of Proficiency (STAMP) Language Proficiency Test to receive the State Seal of Biliteracy.
The State Seal of Biliteracy is a state-accredited award given to students that demonstrated proficiency in a second language. The state seal will allow graduates to stand out to future colleges and employers.  In addition to passing the STAMP test, students need to have a passing score on the ELA MCAS. The test will assess four skills: reading, writing, listening and speaking.
Students that score a four or five on any Advanced Placement Foreign Language exam will also be qualified to receive the State Seal of Biliteracy. This counts for any Advanced Placement Foreign Language exam, regardless of if the language is taught at Algonquin or not. Students are also allowed to take the STAMP test for any second or third language they may be proficient in, even if they do not take classes for it at Algonquin. 
"We are allowing it for any other student; they don't have to be doing it for a world language class," World Languages Department Chair Nicole DeMember said. "Anyone that speaks another language is able to take it as long as they have passed the ELA MCAS."
The State Seal of Biliteracy will not only acknowledge students' accomplishments, but it may also benefit their future. 
"I think the seal would look really good on college and job applications," junior Maeve Grandpre said. "Also, it gives me a good indication of how much French I've learned over the years." 
According to French and Spanish teacher Karla Steele, students do not need to be doing additional practice outside of class since the foreign language curricula cover each of the four aspects of the test. 
"The Spanish IV curriculum entails our literature textbook where we read short stories, discuss them, debate, write and do authentic audio activities for listening comprehension," Steele said. "Our Spanish IV classes are ready for the challenge."
The World Language teachers have all been having students complete sample tests, but some students are not excited to take the required exam, despite the potential benefits. 
"We have done some preparation for it and there was some resource online we used," junior Brandon Saulnier said. "Honestly, the resources online are pretty limited, and it's not really a choice, so I guess I'll take it."
Due to school closures from the COVID-19 pandemic, at home online tests will be offered at a to be determined date.