Coffee Shop Quest: Stop one, Lalajava
I'm on a mission to find the perfect coffee shop. Just to begin with, all of the coffee shops I will be covering through this blog are one's I have never been to before. I want to try out new places to find the perfect coffee shop relative to me, but hopefully my experiences will help you, too. I'm excited to visit different coffee shops and try them out, hopefully finding at least one I can call perfect!
After school on March 4, my mom and I headed over to Lalajava in Northborough (290 W Main St #12, Northborough, MA 01532), the first stop on my way to find the perfect coffee shop. I hadn't been to Lalajava before, so I was very excited to try it out. 
Lalajava is located in a small plaza with some surrounding shops and restaurants. It also has a few chairs and tables for customers to use outside by the entrance. 
As I walked in, I have to say I was a little overwhelmed. There was just so much stuff all around, on the walls and on displays, but it was interesting to look at as I enjoyed my food and drink. There were tropical features and a wall full of their own company t shirts. They had little gadgets all around, including umbrellas, palm trees and flamingos, as well as coffee beans and drinks. They also had a variety of pastries. I did find it confusing on which way was the entrance to the counter, and to be honest I am still not very clear on that. Still, I would describe the overall vibe in Lalajava as entertaining, positive chaos, as music was playing and there were so many decorations to look at throughout the shop.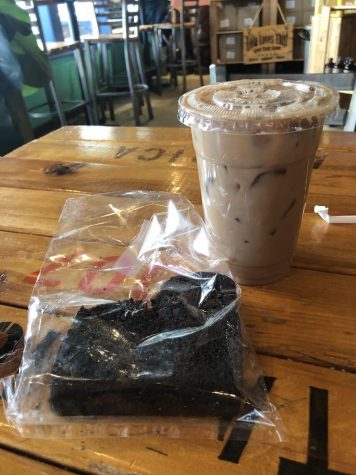 I ordered a small iced mocha and a piece of chocolate pound cake. I mean after all, March 4 is National Pound Cake Day! I knew this because I have a calendar in my room with all national days. My total for both the coffee and the pound cake was $10.87, which seemed a little high, especially considering my coffee was $4.25. Nonetheless, the worker already started making my drink as I was practically saying my order, which was great. The service was so quick and the workers were very friendly. 
Once I got my two treats, I was super excited to try them out. When I took my first sip of my iced mocha coffee, I was taken off guard a little bit, but definitely not in a bad way. As I drank some more, I realized I wasn't tasting the mocha flavor much, if at all. I still really liked the taste of the coffee, it just wasn't what I was expecting. It had a mild and smooth coffee flavor with just a hint of mocha. I also realized the cup was pretty full of ice, so I felt like there wasn't much actual coffee for the price. 
On the other hand, the pound cake was absolutely delicious. It tasted so good and moist, and I could tell it was made fresh. I was very hungry coming from school, and the piece of pound cake filled me right up. It even had chocolate chips in it. I love anything chocolate, so the dense, rich chocolatey flavor in the pound cake was perfect for me.