O'Connell, MacGlashing set two girls' ice hockey records in tough loss to Natick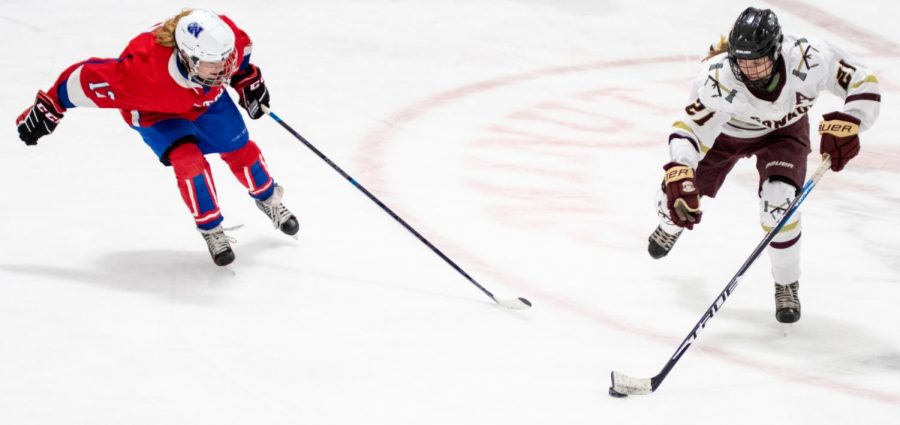 Junior Kerryn O'Connell and Marlborough senior Amy MacGlashing both broke girls' ice hockey school records during a tough 6-5 loss against the Natick Red Hawks on Wednesday, Jan. 29 at the New England Sports Center.
"Obviously we did some things well and there's some things we're going to need to work on," head coach Mike Hodge said. "But I'm proud of Amy for setting the all-time [points] record, and unfortunately we lost in that. Kerryn set the all-time goal record today."
Contributing three points in the game, MacGlashing totaled 117 points in her career which broke the previous school record of 116 points. O'Connell broke the previous record of 64 goals, with an additional two for a total of 65 goals in her three years. 
"I'm really excited, but I honestly wouldn't have done it without my teammates and everybody on my lines because without them, it definitely would not have happened at all," MacGlashing said.
At the start of the game, the Tomahawks were controlling the play. However, 2:15 into the first period, Natick scored.
Soon after, Algonquin responded on a powerplay. Off a rebound, sophomore Sabrina Ferro scored with assists from junior Heather Hodgkins and O'Connell.
Off the face-off following Ferro's goal, just fifteen seconds later, O'Connell stickhandled through multiple defenders and put the puck in the back of the net to give the Tomahawks a 2-1 lead.
Once again, O'Connell scored 10:36 into the period off an assist from MacGlashing.
"I think [mine and Amy's] chemistry is really a part of our [success on the ice]," O'Connell said. "We've been best friends since my freshman year when we first started playing together, and I think that really helps us connect on the ice."
Natick scored another goal 11:54 into the second period, but Algonquin capitalized during another powerplay and scored. This time it was Hodgkins who scored 14:36 into the period with assists from MacGlashing and O'Connell.
Natick came out hot at the beginning of the third period, getting the puck past sophomore goaltender Lana Pacific four times in the span of the first four minutes to put Natick up 6-4.
MacGlashing came back scoring an unassisted goal off a turnover 6:52 into the period.
Although the Tomahawks fought hard and ultimately pulled the goalie to try and gain an advantage, the effort wasn't enough and they fell to the Red Hawks 6-5.
"I think it's going to happen and I think as crappy as it is, it makes us a better team overall because you're not going to go into every game and you're not going to win every game," MacGlashing said. "It's not going to happen. Obviously it's unfortunate that it went that way, but I think it'll just make us better and motivated to win the next one."
For playoffs, O'Connell feels this game will teach the team a useful lesson.
"Going into the playoffs, this will be a big lesson to have, to just always keep playing hard, never let up," O'Connell said.
Looking forward, despite a difficult schedule, Hodge is confident about the team's chances in the playoffs.
"We have a talented group; we have a deep group," Hodge said. "I do expect another good playoff run. We'll learn our lessons from this and move on."
About the Contributors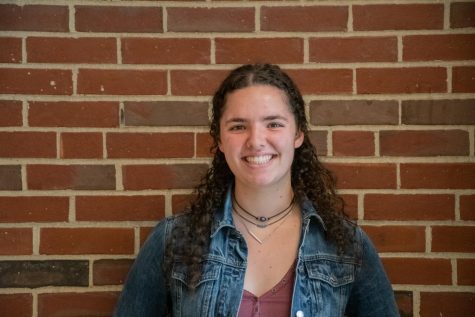 Laura Anderson, Managing Editor
After taking journalism her sophomore year, Laura officially joined the Harbinger staff as an assistant news editor.   Since then she has become the...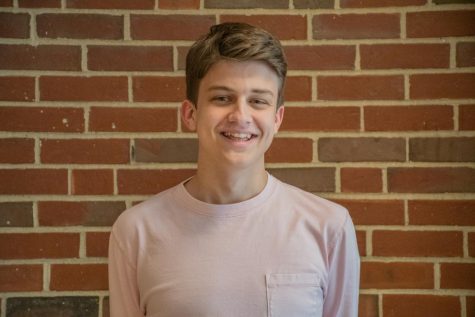 Jonny Ratner, Photo Editor
My name is Jonny Ratner and I am a senior at Algonquin, as well as one of the photo editors of the Harbinger.  I began taking photos for the Harbinger...