REVIEW: Flour Bakery creates tasty pastries, savory options in Boston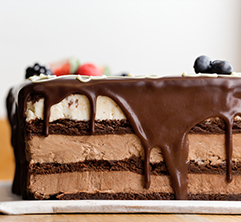 Fresh baked cookies, still warm from the oven. Cloud-like lemon meringue complete with flaky pastry. With an extensive menu offering both its signature desserts and an impressive array of savory options, Flour Bakery in Boston's Back Bay neighborhood is the optimal destination for a delicious meal or a quick bite. 
Founded in 2000 by renowned pastry chef Joanne Chang, Flour entered the bakery scene with a clear mission. According to their website, they aim for "each customer's experience to be full of delight," and guarantee "great food, gracious service, warm atmosphere, heady aromas, and irresistible displays."
Flour's dessert-centric philosophy is apparent within moments of entry. Decorative writing on the wall displays Flour's motto: "Make life sweeter. Eat dessert first."
Visitors are greeted with a display case hosting an impressive array of baked goods—exquisite cakes, a pop of color from a row of fruit tarts. Although the restaurant is usually packed with customers, wall-to-wall windows create an impression of spaciousness. Seating at a counter or tables is often limited but ordering food to go or waiting for seats is well worth it. 
Despite a busy environment, Flour servers work efficiently to accommodate the masses of customers while maintaining a friendly demeanor. Staff members always had a smile to offer despite the pressure of a line of eager customers. 
Although I was struck by the friendly and bustling environment, I was anticipating the food above all else. The reasoning behind Flour's intriguingly dessert-focused motto become clear after trying their sweets.
Out of a spread of desserts ranging from carrot cake to cinnamon rolls, Flour's homemade oreos truly exemplify their confectionery prowess. Although a take on the traditional snack, these sandwiched cookies bear little resemblance to the simple flavors of their namesake. The chocolate of the cookies is rich and dark, lending complexity and depth to the dish; a thick layer of creamy vanilla frosting is sweeter, complementing the chocolate to perfection. 
Contrary to the focus on sweets put forth by Flour's motto, their savory offerings were delicious and satisfying as well. During my visit, I enjoyed the Greek salad—a balanced blend of lemon- thyme chicken, fresh lettuce, red onions, olives and peppers. The smooth taste is punctuated by bursts of flavor from the olives and crisp banana peppers. The chicken, meanwhile, is more delicate, with the lemon flavor just strong enough to hold its own against other ingredients. 
Prospective customers should be aware of Flour's prices, with a full sandwich or salad starting around $10. Customers may want to plan on spending a little extra on the irresistible desserts, starting at $2.50.
Although I dined at the Back Bay location, this Boston staple has eight locations, ranging from the South End to Fort Point Channel. 
Flour's bustling atmosphere and lively decor make it a fun and unique Boston destination. Whether stopping in for a satisfying lunch or just one of their signature sweets, Flour is an unsurpassable casual dining experience.