REVIEW: Evviva Trattoria brings affordable, delicious Italian food to Apex
When you walk through the doors of Evviva Trattoria, you are greeted with a warm, quiet and welcoming environment. The walls are brick with bright, fun murals, and the ceiling is unfinished with unique lights hanging down. Soft and calming jazz music sets the backdrop for a relaxing Italian lunch or dinner with family or friends.
The restaurant's focal point is a large bar that spans across almost an entire wall. At least twenty seats are available surrounding the bar, facing an impressive wood-fired pizza oven and open kitchen. There are also high top tables for anywhere from two to six customers, as well as traditional booth seating for larger groups.
The wall across from the bar is covered in floor-to-ceiling windows offering bright light in the daytime and a dimly lit ambiance in the evening. Outside the windows is a patio complete with string lights overhead and several fire pits, creating the perfect summer seating option.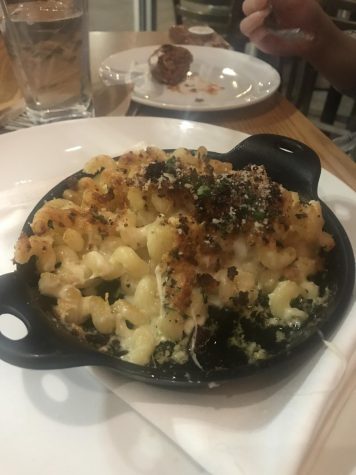 Evviva is one of my family's favorite dinner spots, mostly due to the wide range of appetizers on the menu ranging from avocado toast to fried ravioli. My sister and I love to order a selection of two or three small plates and share them between us as our meal. This time my sister ordered mac and cheese, which is an entree, but I ordered the appetizer "Nonna's meatballs" and we shared the two dishes.
The mac and cheese was topped with breadcrumbs, making it crispy on the top and creamy underneath. The meatballs were served in a skillet with house-made marinara sauce and topped with ricotta cheese with a piece of toasted bread on the side. While it wasn't the most balanced meal we've ever eaten, my sister and I found both dishes to be delicious.
My dad ordered the cauliflower skillet with chicken, which came with warm potato chips and pita bread. My mom ordered the shrimp and lobster risotto. My parents both enjoyed their meals, making the trip a win for the whole family.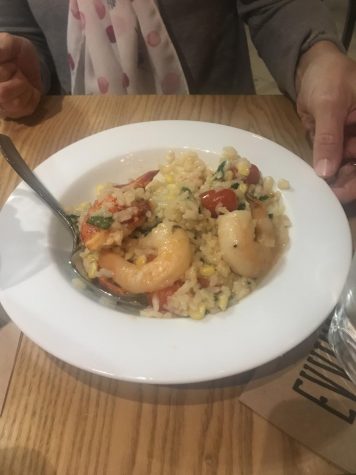 Other menu items include an array of pizzas, pastas, salads, paninis and seafood. The highlight of the dessert menu is a flight of mini cannolis in different flavors. Our waitress was friendly and attentive, which added to the positive experience. All together our meal cost $66.59, which is fairly reasonable for a family of four at an Italian restaurant.
If you are looking for a tasty family dinner or lunch out with friends, Evviva Trattoria is definitely the place to be. The Marlborough location is conveniently placed in the bustling Apex plaza, but Evviva can also be found in Westford and Wrentham. The inviting atmosphere and Italian cuisine is the perfect combination for a relaxing night out.