Girls' soccer claims CMASS Division 1 championship title against Wachusett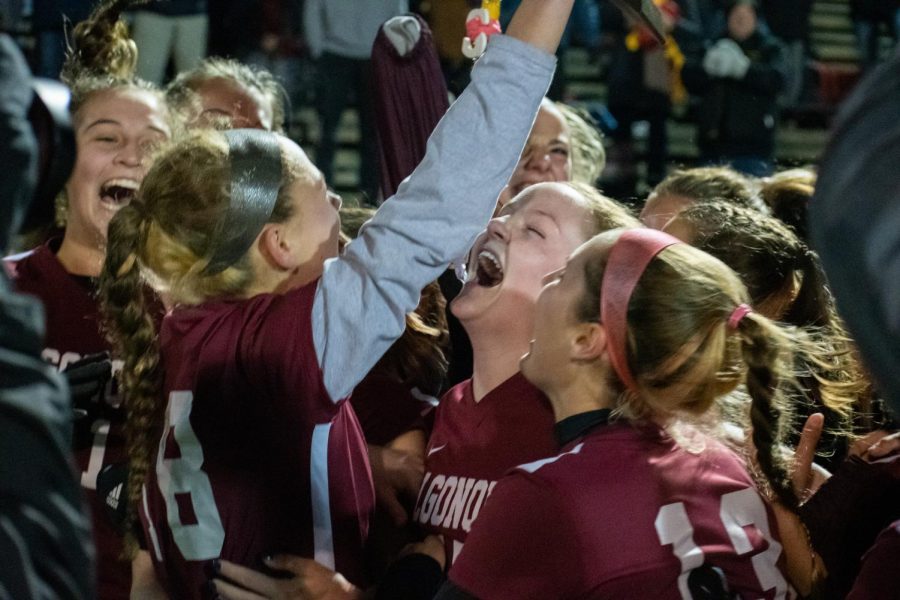 After a hard-fought game resulting in tie-breaker penalty kicks, girls' soccer claimed the CMASS Division 1 championship title 2-1 against the Wachusett Mountaineers at Doyle Field in Leominster on Thursday, Nov. 14.
The Mountaineers were back-to-back CMASS champions. In 2017, they defeated the Tomahawks 2-1. However, the Tomahawks were excited and ready for a second chance.
"I feel great about winning CMASS," junior goalie Raiya Sehgal said. "Especially after losing two years ago the way that we did, being able to come back so strong and really make our mark on every team we played was a great experience."
Both teams came to play, as Wachusett player Maggie Kelley scored their first goal just two minutes into the game, putting the Mountaineers up 1-0. According to senior captain Lucy Gauvin, the Tomahawks remained composed.
"Nerves didn't really affect me at all," Gauvin said. "I was more excited about the game."It really helped me to think 'this is just like practice.'"
 A little more than half-way through the first half, Gauvin sent a cross to senior Taylor Moore, who booted the ball into the net, tying the game 1-1.
"The best moment of the game was when Taylor scored the tying goal," junior Morgan Potter said. "It was really relieving because up until then I didn't know what was going to happen."
The teams put up quite a challenge for each other, with several near misses on either side's goal. The Tomahawks' defensive ability, especially with seniors Alexa Sullivan and Megan Keller, was the key to keeping Sehgal composed.
"That backline really sealed the game for us," Sehgal said. "There are no nerves if you're playing behind a team as good as I was playing behind."
The score remained 1-1 through the rest of the game and the teams were sent into overtime. After ten minutes of double overtime, neither team scored a goal. Many players, such as Gauvin, played the majority of over 100 minutes.
"Obviously you get tired after playing 100 minutes with double overtime," Gauvin said. "But honestly, I just wanted to win so I didn't really let my fatigue phase me that much."
The tied score after double overtime resulted in the teams going into penalty kicks. The first was shot by Wachusett and was kicked to the far right past the goal. After that, Gauvin scored on Wachusett goalie Emma Hickey. Sehgal saved Wachusett's next goal and sophomore Caroline Kelly's kick brought the Tomahawks up 2-0 in PKs.
"The most nervous I was, was for the PKs," Gauvin said. "But as soon as Wachusett missed the net completely in their first PK, I started to feel relieved."
Sophomore Lulu Alcock's kick was shot high and deflected by the crossbar. However, Sehgal saved Wachusett's next goal attempt which set Potter up to score the final winning penalty kick.
"I was debating asking if I didn't have to take the PK because I was so nervous," Potter said. "The entire time I was saying, 'I'm gonna throw up'."
"The best moment was watching Morgan seal the deal and get that PK," Sehgal said. "She and I have been on the team together since we were sophomores and we've been growing together and being able to save that goal and then watch her win it all for us was just the best feeling ever."
After coaching for ten years at Algonquin, head coach Scott Taggart announced that this season will be his final season coaching the girls. The team is Taggart's second division-winning team in all ten years. However, he has never coached a team that won at States.
"[Winning CMASS] was something we really wanted for our coach because it's his last season coaching," Gauvin said. "We were able to do that so it's exciting."
"Coach T has never had a State-winning team, so it would be great to be the first," Potter said.
After winning CMASS finals, the Tomahawks will be competing at Springfield Central High School on Tuesday, Nov. 19 for State Semifinals. The opponent has not yet been determined.
"I don't know how I feel [about State Semifinals] yet because I'm not sure who we're playing, but I feel like we could beat anybody," Sehgal said. "I feel unstoppable right now."
"Now that we've overcome CMASS, I'm ready to take on States," Sullivan said. "I really feel like CMASS is one of the harder divisions, so I feel like we can beat anyone."
About the Contributors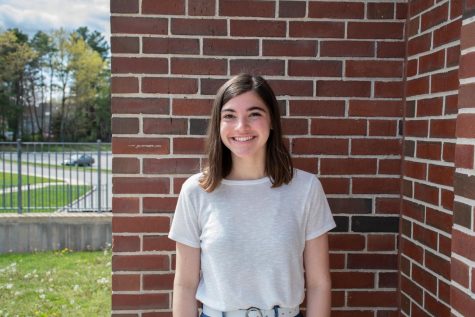 Jenny Lambert, Sports Editor
Jenny started writing for the Harbinger her sophomore year in journalism class and became assistant sports editor soon after.  She is currently head sports...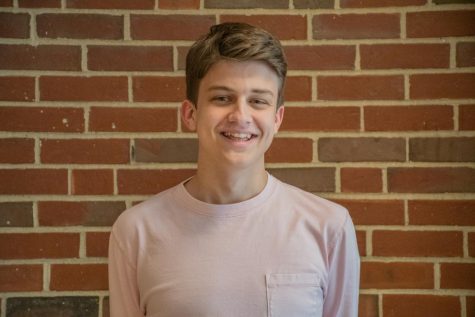 Jonny Ratner, Photo Editor
My name is Jonny Ratner and I am a senior at Algonquin, as well as one of the photo editors of the Harbinger.  I began taking photos for the Harbinger...