Unwind with this summer's One School, One Book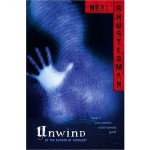 After an extensive selection process, the One School One Book committee has finally chosen a book: Unwind by Neal Shusterman.
"We went through all of the selections in the suggestion boxes, and we narrowed it down to a list, and kept narrowing it down until we got to one book," said junior Lohitha Madhireddy, the head of the committee.
There were many factors that had to be taken into consideration when choosing a book, including its appeal to a wide variety of readers.
"We really looked for a book that would appeal to different grade levels, and would be appealing for both the girls and the boys, and would have an interesting plot that would really pull people in," said Michelle Rehill, an advisor of the committee.
"We want everyone to be able to read it. We want it to be available in a wide variety of formats, so it can be accessed in different ways," said junior Jillian Rizzitano, a member of the committee.
The book also had to have interdisciplinary elements so that teachers could incorporate it into their curriculum.
"We wanted a book that would spark discussion, and we think this book has that," said Jane Betar, an advisor of the committee.
Unwind is a science fiction novel that takes place in the United States after a civil war in the near future. The civil war is fought over abortion, and a compromise is reached in which unwanted children can be "unwound", or have their body parts harvested for later use.
This book has a controversial aura and will most likely spark avid discussions amongst students and teachers.
"Unwind is about the meaning of human life and its value. It is a thought-provoking book that will stimulate many discussions in the classroom and will really keep readers engaged," said Madhireddy.
This is the first time the One School One Book committee has been entirely student led.
"This year, the students took it over. They ran and facilitated the meetings, the communications, and the selections," said Betar.
"We wanted to have everyone involved, so we have Algonquin students involved, as well as Ms. Betar and Ms. Rehill, as well as librarians from the Northborough and Southborough libraries," said Madhireddy.