OPINION: King James dethrones Jordan as greatest baller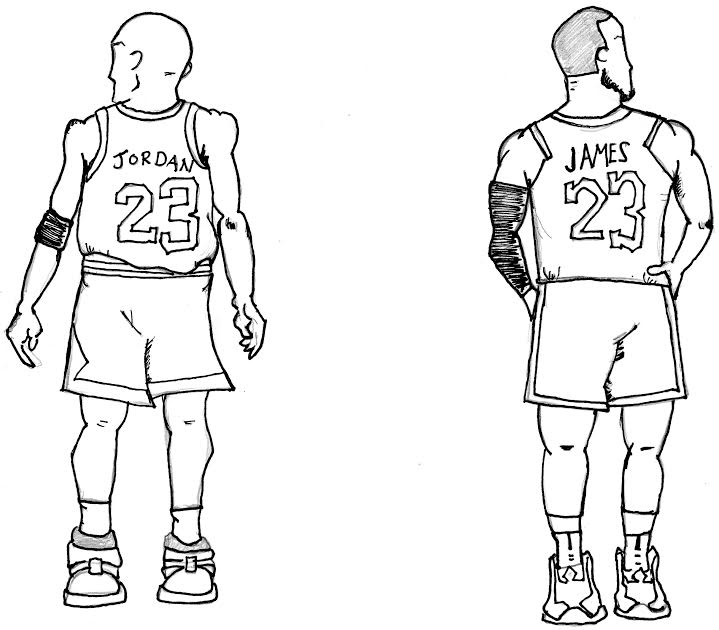 Ever since Michael Jordan stepped onto an NBA court, he was considered the greatest NBA player of all time. However, that all changed when the Cleveland Cavaliers selected LeBron James with the first overall pick in the 2003 draft. It's time that we recognize LeBron as the king of basketball and that he has officially dethroned Jordan.
The problem that arises when comparing NBA players from different time periods, like Michael Jordan and LeBron James, is that often the person who watched Jordan play in his prime will say something like: "How can you argue that if you never saw Jordan play?" or "How can you compare two players from two completely separate eras?"
The most important thing to understand when making a case for either one is to note just how incredible both players are. Players like LeBron, Jordan, Kareem Abdul-Jabbar and Bill Russell are all among the greatest legends to ever touch a basketball, but I believe one stands out as the greatest, and that is four-time Most Valuable Player, LeBron James.
The most accurate way to compare these legends from different time periods is to look at a few things: their overall basketball skills and abilities, their physical attributes and their consistent excellence that was above the rest, even when the odds were completely stacked against them.
Drafted out of high school, Lebron was surrounded by the most pressure and hype any basketball player had ever experienced, and he took it and ran. In the 2003-04 season, LeBron's rookie year, he already was looking like a future star and everyone watching knew he was special, but he did not know just how special he would become. If there was any player who had surpassed the hype or at least met the expectations of being the next face of the league from day one, it was him.
The closest comparison in the conversation of the greatest player of all time is Chicago Bulls legend Michael Jordan. Although Jordan was one of the greatest to ever play, the areas LeBron excels in more than Jordan are ones that are simply more important to consider when comparing these two, such as leadership, unreal physical attributes and an overall ability to achieve more from any part of the court while still remaining consistent at a high level.
Overall, Lebron has more pure ability and physical attributes than Michael Jordan. LeBron can play all five positions as well as defend against all five at a high efficiency and effectiveness. At his size, LeBron has unmatched court vision and the ability to always find the open teammate. On every team he has played for, LeBron has made the people around him better, and some have even reached their full potential when on the court with him. LeBron will finish his career with more total points, rebounds, assists and blocks than Jordan, as well as a higher total shooting percentage.
Yes, Jordan does have six championships while Lebron only has three, but many factors went into winning these championships. One of these factors is that the teams Jordan beat in each of his finals were, for the most part, nowhere near as good as the teams LeBron has beaten in the finals.
In his six finals championships, Michael Jordan and the Bulls faced five teams (facing the Utah Jazz twice) consisting of seven total Hall of Famers. These teams had great players, but the only team that's considered to be even comparable to the teams Lebron has faced was the Los Angeles Lakers in 1991.
Lebron has undoubtedly had to face some of the best teams to ever be assembled in the NBA. In Lebron's three championship titles (two with Miami Heat, one with Cleveland Cavs), he has had to face a total of at least ten players locked in to be Hall-of-Famers. Most recently in 2016, LeBron completely carried the Cavs past the Golden State Warriors after coming back from being down 3-1 in the series.
LeBron James is the best basketball player ever, as his physical ability accompanied by his overall basketball IQ and consistent level of greatness combine to earn him the name of "King" James.