REVIEW: Tatte Bakery brings pleasing aesthetic, delicious food to Boston
As soon as you open the door to Tatte Bakery, it's clear that you've stumbled upon a jem. The bustling atmosphere, minimalistic interior and endless baked good options cannot be outdone.  
There are currently 13 Tatte bakeries throughout Boston and each one is notoriously known to be packed at every hour. Even at 2 p.m. on a Friday, the Back Bay location (399 Boylston St, Boston, MA) was filled with eager patrons.
Though technically a chain, Tatte retains a unique aesthetic, making each store similar yet special in its own way in terms of decor.
The Back Bay location's interior is stunning with black chalkboards against white tiled walls, tables topped with marble, a small coffee bar and an endless selection of baked goods behind glass display cases. With luminous lighting and a sleek look, any Instagram connoiseur is sure to capture a few good photos.
The extensive menu features multiple flavorful dishes such as shakshukas (a traditional North African dish with tomato sauce, bell peppers, poached eggs, and feta cheese), tartines, breakfast sandwiches and pastries including fruit tarts, cheesecakes, muffins and more. Brunch is served all day Friday, Saturday and Sunday and the normal menu is served all day from Monday through Sunday.
The prices are not cheap but still reasonable, each dish ranges from $10 to $13 and baked goods range from $3 to $6.
We ordered the french toast, traditional shakshuka, avocado tartine, raspberry cheesecake and a house latte. In total the meal was $40, a bit expensive, but we did order more than we normally would for a meal. Unless you have a huge appetite, one dish is definitely enough to make you full.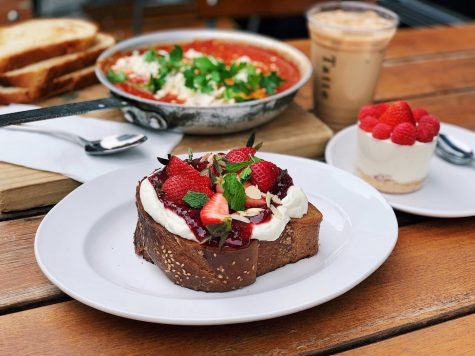 The french toast was topped with fluffy ricotta goat cheese mousse and fresh mint leaves that complemented the sweet strawberries. The traditional shakshuka was warm and hearty, making a very satisfactory meal.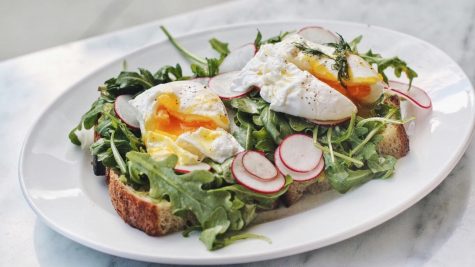 All the food is amazing, but the coffee deserves its own praise. The house latte is unlike any other coffee I've had, and I'm a pretty big coffee fanatic. The house latte, hot or cold, is silky smooth with the perfect balance of bitterness, sweetness and acidity. Even if you are not the biggest coffee fan, the house latte is a must try. However, besides coffee, Tatte also offers an assortment of juices and teas.
The staff was friendly and attentive. Depending on how busy the store is, it may take longer for food to arrive. Each customer is given a number to display wherever they decide to sit after ordering at the front counter. Separate from food, coffee is picked up at the coffee bar and pastries are served upon ordering at the front. Our food arrived within 10 minutes after ordering.
With its delicious food and beautiful interior, Tatte Bakery is a great place for anyone who is looking for a casual meal or special treat.