REVIEW: Red Heat Tavern adds unforeseen entertainment to eating out, accommodates dietary restrictions
With good American-style food, and even better entertainment, Red Heat Tavern in Westborough is perfect for a night out with friends or family.
When we entered the restaurant, there was about a 20 minute wait.  To my surprise, however, there was plenty to do. Multiple live sports games were displayed along the six large flat screens above the bar, and two shuffleboard tables were open to play.
The overall design of the restaurant is quite remarkable. Two large windows in the shape of garages look onto the patio, which would be a nice place to sit on a warm night. A large, open kitchen and walls covered with fun colors and pictures make the restaurant feel like a fun place to be.
Before we knew it, our table was ready.  Because there was a wait, I was quite unhappy to find out there were various open tables, despite the fact only one or two people had left.  
Nonetheless, we were greeted by an extremely experienced waitress. She was made aware of my gluten allergy and proceeded to mention that everything  on the menu can be made gluten free (gf), which is incredible due to the fact that many restaurants have only very few options that are gf.
I happily ordered a "Firestarter," or appetizer, of fried pickles ($8.95). Carried out on a specialized plate by the manager, I surely felt special and also safe that my food was not contaminated by gluten.
The fried pickles were amazing.  With a perfect crunch and zing of the seasoning, I devoured a rather large portion in minutes. The sriracha aioli sauce that came with it provided a bit of spiciness as well as a savory taste.
For my meal, I ordered the Southern Fried Chicken ($17.95), which I wouldn't say was worth the price. The chicken was outstanding. It was a  perfectly cooked piece of meat that was juicy and tender, covered with a light breading and gave the perfect crunch. However, I was not a fan of the mashed potatoes that came with it. There was too much garlic and seasoning which left a bad aftertaste. Along with that, the restaurant ran out of green beans, so I chose a side of fries which I planned to take home.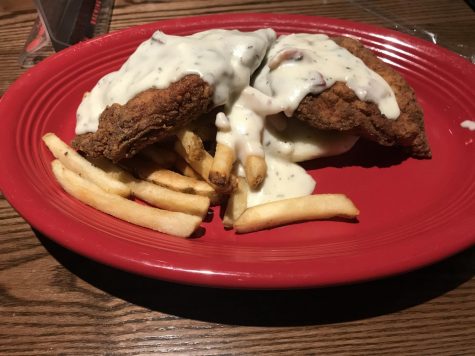 I would recommend this restaurant to anyone looking for entertainment with their meal and especially for those with dietary restrictions. Whether you're looking for a night out with friends or a dinner with family, Red Heat Tavern will fulfill your food and entertainment needs!