Boys' rugby faces tough loss to defending state champions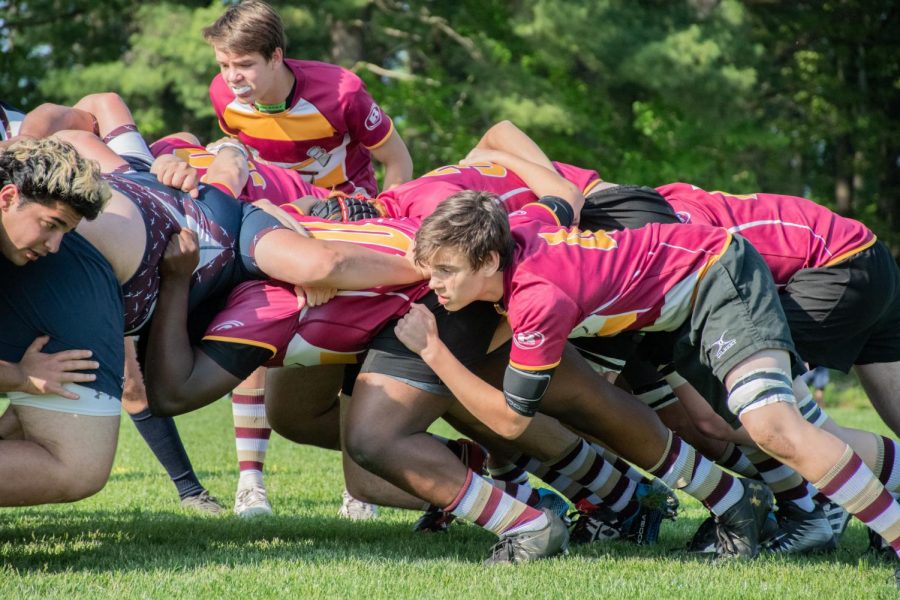 Due to injuries and being simply outmatched, the boys' rugby team lost 7-69 to the defending Division 1 state champions, Belmont High School on Wednesday May 22.
The Algonquin team was not as experienced as Belmont.
"Our kids are young; they're infants in rugby years," head coach Dominic McNeil said. "We're playing against juniors and seniors, and we have freshmen and sophomores."
McNeil thinks that his team did well, even if the game was a blowout.
"We were as ready as we could be, and they played the best they could," McNeil said. "We've had a lot of injuries, and we have certain areas in the field where we're not as strong. Belmont is strong in every area."  
Sophomore captain Nick Uzar believes that his young team can learn a great deal from this game.
"We have a super young team, so nine out of the 15 [players] are sophomores or freshmen," Uzar said. "We have to take advantage of that and have these kids learn from this game because these are the state champions of Division 1 high school rugby."
McNeil also believes this game was a great learning experience for the team.
"Every game, no matter what the score, is a massive education for these kids at this level," McNeil said.
Sophomore captain Jeff Valentine agrees that there was a lot to learn from how Belmont played.
"We can learn a lot from what they did," Valentine said. "They spread the field very well. They moved it down very quickly, which we can take into our own game."
Despite the loss, McNeil saw many positives from the game.
"As much as there were struggles, every time someone did something good everyone was very excited about that, so that's great to see," McNeil said.
McNeil praised his three sophomore captains.
"Our captains, Nick Uzar, Mike McEvoy, Jeff Valentine have tremendous leadership, they're tremendous athletes and [they're] very talented," McNeil said.
McNeil was happy about the performance of many of his other players this season.
"You can say great things about just about everyone on the field,"  McNeil said. "Probably the biggest surprise of all is [junior] Andre Hird who has become a dominant player at the Massachusetts Division 2 level."
The team, despite facing a large deficit, kept fighting to the end. With 10:43 left in the second half, they finally scored at the end of the game, and Valentine believes that was a huge positive.
"We scored at the end, we moved the ball down the field and we pounded it in until we scored," Valentine said. "If we can replicate that more often, we'll be more successful."
Valentine also believes that they stopped Belmont in some aspects of their game.
"That team was a very good counter rucking team as well and we did a great job at stopping them from doing that," Valentine said.
McNeil believes that his team will move on quickly to the next game.
"Kids are amazingly buoyant," McNeil said. "There's not a single kid who is upset with themselves in terms of what has happened. This didn't even happen and were moving on to next week."
Uzar believes that they can bounce back by learning from their mistakes this game.
"We just have to learn from whatever we did from this [game]," Uzar said. "I feel like we can bounce back and come back on this last game."
The team celebrated their seniors, Mario Mikhail and Kevin Reddington, at this last home game of the season.
The team will face Lincoln-Sudbury on Friday May 31 and McEvoy believes the team will bounce back in the last game of their season.
"We will bounce back next game by giving LS our full effort and not backing down," McEvoy said. "It's the last game of the season so we have nothing to lose and plan to give it everything we have."
McNeil believes the team it has great potential in the near future.
"Going forward, with the leadership and talent that we have, the potential for these kids is tremendous," McNeil said.