Baseball defeated by Shrewsbury in last home game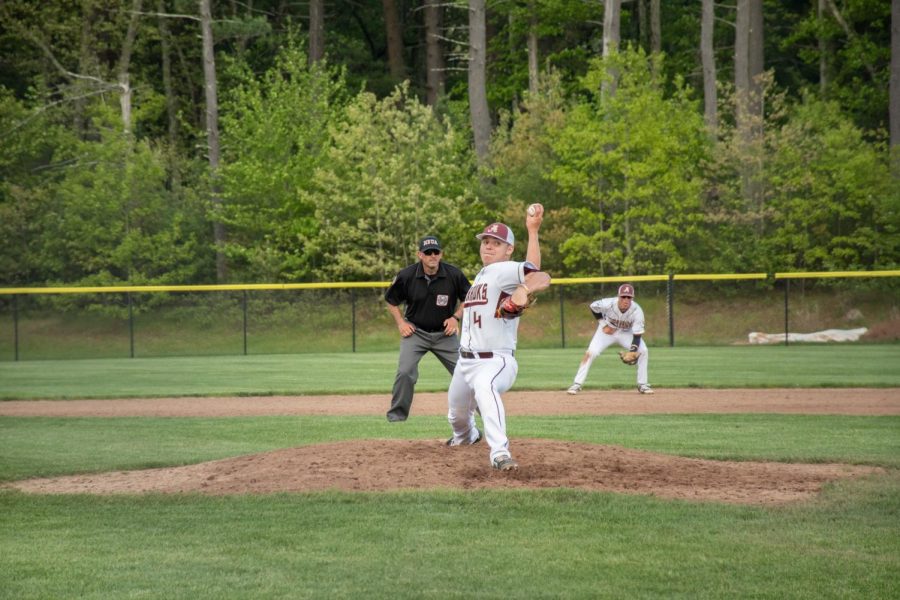 Despite a strong start, the baseball team suffered a 12-5 loss to Shrewsbury in their last home game  
The team was helped to an early 2-0 lead at the end of the first inning with runs by junior Patrick Solomon and senior Connor Klein. Solomon then earned another run in the third inning.  
"[We] got an early one nothing lead, so it's a great start," Solomon said.  "It's always a good start when you're up one."
After a few more innings with no runs earned by either team, Shrewsbury got nine runs in the fifth inning off of starting pitcher sophomore Sam Hill and reliever junior Quinn Potter.
"As the pitcher, the fifth was when I was struggling to hit my spots," Hill said.  "A couple walks and a couple good hits lead to be the game changer. Their team continued to build off each other and eventually they took the lead."
Those fifth inning hits also gave the Shrewsbury team the motivation it needed to amplify their already excessive cheering, helping create  a mental block for Algonquin's team.
"Shrewsbury's morale was high after that inning and they came out with a new sense of energy and motivation," senior captain Owen Coderre said.
"I don't think it was a specific mental mistake, but it was just an overall team effort and we just didn't get the job done," Solomon said.  
Regardless of the fifth inning, Solomon and junior John Fontecchio both earned runs in the seventh inning, but Shrewsbury earned another three runs to bring the game to its 12-5 end.  
According to coach Brian Doherty, Shrewsbury was just able to out hit Algonquin.  
The last play of the game was an out on Hill as he ran to third after being caught in a pickle. From his and the team's emotion, it was evident that despite the mental blocks the team suffered late in the game, they gave it their all until the end.  
While this was the last home game of the regular season, the team is hopeful that there will be a chance to clinch a home advantage in the playoffs and finish the job they started on Fidrych Field.
"We know who we can be, and we will find it as the playoffs come around," Hill said, "We wanted to get in[to the playoffs and we did]….now we have to make some noise."