REVIEW: 'Dumbo' remake takes a fresh approach on classic film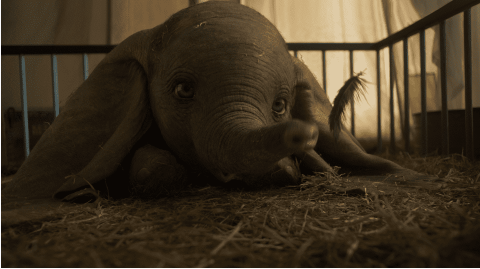 Hang on for a minute...we're trying to find some more stories you might like.
"Dumbo" is the 2019 live action fantasy and adventure film that brings back the remarkable story of the elephant that can fly. With Tim Burton as the director,  "Dumbo" is one of the best films of the year. His unique, dark style and creativity made the film what it is.
Known for his twisted imagination in films such as, "The Nightmare Before Christmas," "Corpse Bride," and "Alice in Wonderland," Burton's always been my favorite director and I was so excited when I found out that he was directing this Disney remake.
As the film opens, the Medici Bros. circus is on the move, and with them they've brought along an expecting elephant. Little did they know, this elephant's child will be born with extraordinary ears, giving him the ability to fly. Upon arriving at their destination, Mrs. Jumbo, the elephant, gives birth to Dumbo. Because of his over sized ears, the circus treats him unfairly and all the crowds do is laugh at him. After an accident involving Mrs. Jumbo trying to protect Dumbo during a show causes the circus tent to collapse, the circus owner makes a deal to collaborate with V. A. Vandevere's amusement park, Dreamland, which only leads to more trouble.
"Dumbo" stars a variety of well known actors.
Colin Farrell, after playing Travers Robert Goff in "Saving Mr. Banks", brought a whole new element to the screen as the film's protagonist Holt Farrier, father of Milly and Finley. Michael Keaton, known for his role as the antagonist, Beetlejuice in "Beetlejuice", was extraordinary as the film's antagonist, V. A. Vandevere. Danny Devito, having previously portrayed Harry Wormwood in "Matilda", brought a bundle of energy to his newest role, Max Medici, owner of Medici Bros. circus. Eva Green, known for her portrayal of Angelique in "Dark Shadows", portrays the role of Colette Marchant, a French aerialist who works with Vandevere. Alan Arkin, famous for his role of Lester Siegel in "Argo", plays J. griffin Remington, Dreamland's chief investor. Overall, these actors did a phenomenal job, considering they worked with a  computer-generated imagery (CGI) elephant, Dumbo.
The remake also debuts actresses Nico Parker as Milly Farrier, the wannabe scientist, and Finley Hobbins as Joe Farrier, who is a minor role. These young actors did an outstanding job considering they're new to the acting business and also had to work with a CGI elephant.
The classic Disney version of the tale featured many songs, but very few songs were used in the remake. However, "Baby Mine", "Pink Elephants on Parade" and "Loading the Train" (called "Train's a Comin' in the remake) are included, and though the songs aren't identical to the originals, they still bring back similar vibes.
The biggest difference between the live action version and the animation is that the live action version has no talking animals, which was a good approach to take. If they hadn't changed anything, it would have been boring to see the same story. This brought the story back to life for children and adults.
In fact, there were very few similarities in both films. Two of the very few scenes that remained the same, were the firefighter clown scene, where Dumbo was on a plank surrounded by flames and he had to fly off of it, and when Mrs. Jumbo went mad and the circus isolated her from her baby.
The movie takes place in the early 1900s, and this time period was represented well through the amazing set including the old-fashioned railroad and clothing. The costume design is excellent, and you even get a vibe of the "The Greatest Showman" from Devito's ringmaster costume.
I definitely recommend this film to those of all ages. It's a fun film that will bring families together by bringing back memories for parents and presenting something new for kids who haven't seen the original.
"Dumbo" is rated PG and is currently still in theaters.